Protect Your Home in Jamestown with a Basement Drainage System
If you want to preserve your home's safety, comfort, and value over time, it's vital that you have the right waterproofing strategy in place. Total Foundation Solutions is proud to offer basement waterproofing in Jamestown, including professional drainage systems.
Symptoms of Water Damage
While some signs of water damage are easy to spot, others may be harder to identify. We recommend that homeowners regularly inspect their basements for signs of water intrusion. Some signs to look out for include:
Mold or mildew growth

Rotting wood

Musty odors

Bug infestations
A basement that is too humid or has suffered water damage can affect the health of the whole home. Not only can water damage the structure, but dirty air can circulate up to the main living areas, potentially exposing you to mold spores.
The Hydraway Drainage System
At Total Foundation Solutions, we use the Hydraway Drainage System in our Jamestown basement waterproofing projects. This is perfectly engineered to channel excess water out of your basement, and the innovative design prevents backup or clogging.
How it Works
Interior drains collect excess water, which runs through a high-performance fabric filter. The drains come together and are connected to an outlet pipe that directs water outside and away from your home. Our Jamestown basement waterproofing experts are here to provide proper installation of the Hydraway Drainage System so you can breathe easy during the heaviest downpour.
How Does a Basement Drainage System Work?
Our team of basement waterproofing and drainage system experts in Jamestown, NY can recommend the right options for you. A professional-grade basement drainage plan protects your home from flooding, using pipes and drains installed around the perimeter. This catches the most common entry points for moisture and works around the clock to keep your home safe and dry.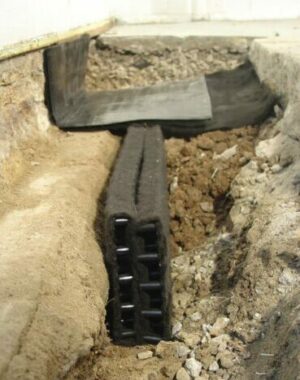 Benefits of Installing a Drainage System
Basement waterproofing is one of the best investments you can make. Not only does it prevent costly and extensive water damage, but it also protects against dangerous mold growth, pests, musty odors, and structural decay. Drainage systems can end up saving you thousands in the long run.
Why Choose Total Foundation Solutions
For more than 30 years, Total Foundation Solutions has provided the highest-quality drainage systems in the Jamestown area. We install the latest basement drainage systems and state-of-the-art basement waterproofing, and repair water damage in Jamestown, NY. If you want to repair or prevent water damage in your home, give the top basement waterproofing company in Jamestown a call and ask for your free estimate today!