Protect Your Home with a Basement Drainage System
Many basements are susceptible to water damage based on their location and the way they are designed. It's important to protect your basement from water damage in order to maintain your home's value and improve the safety of your family. 
Our basement waterproofing experts in Erie have installed basement drainage systems for many happy customers throughout Northwestern PA and Western NY. If your basement shows signs of water damage, installing a basement drainage system can help protect it from future damage.  
Symptoms of Water Damage
There are many different symptoms of basement water damage that homeowners should look out for in order to protect their homes. While some symptoms may be very obvious, others can be harder to identify. 
As a homeowner, it's important to be able to recognize these symptoms so that you can protect your home from further damage caused by water intrusion. 
Typical symptoms of basement water damage include:
Musty odors
Mold growth
Bug and pest infestation
Wood rot
Water in your basement is more than just a mess to clean up, it can impact the health and structural integrity of your home if it's left untreated. 
A phenomenon known as the stack effect allows the air from your basement to infiltrate the main living areas of your home. If there is mold or musty odors in your basement, the stack effect can allow the mold spores or musty odors to enter your living room and impact the health of you and your family.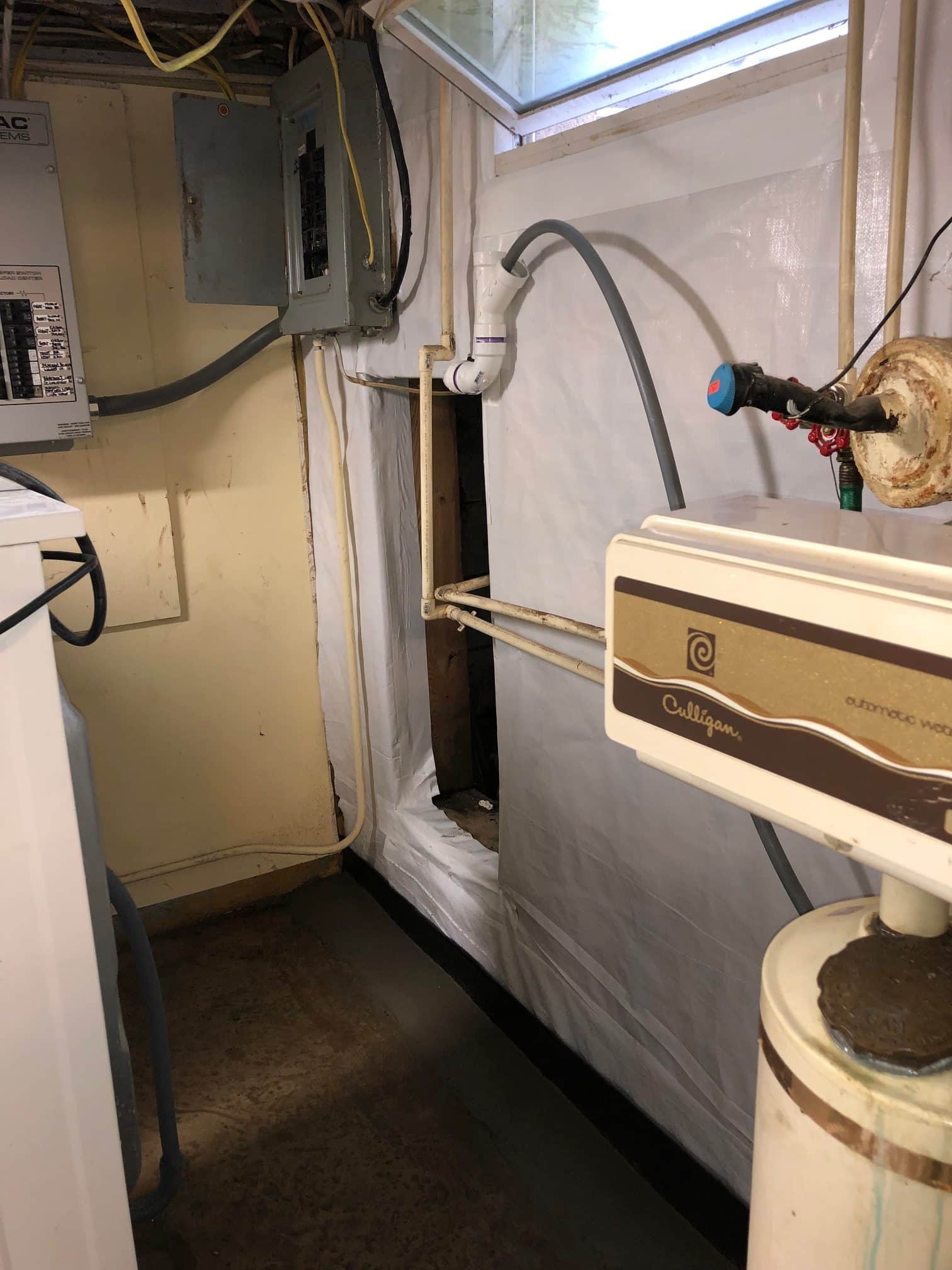 How Does a Basement Drainage System Work?
Our basement waterproofing and drainage system experts in Erie utilize a variety of different products depending on the situation, however, a high-quality basement drainage system is a key component for any waterproofing system to fully protect your basement from flooding. 
The most common way that water enters your basement is through the wall and floor joint. The basement drainage system is installed around the perimeter of your basement to capture this water before it ever has a chance to enter your basement and cause damage. 
Installing a basement drainage system gives you peace of mind as it works around the clock to prevent flooding in your home.  
The Hydraway Drainage System
Our basement waterproofing experts in Erie use the Hydraway Drainage System to protect your basement from flooding and water damage. 
The Hydraway Drainage System is engineered to properly channel excessive amounts of water away from your basement. Its design also prevents soil particles from passing through to the system to prevent any clogging or backup. 
How it Works
The system includes a filter fabric, which allows water to pass through while filtering out any soil or particles that could cause the system to clog
The water then enters the drain that channels it through the main system
The drain is then connected to an outlet pipe that funnels the water outside and away from your home
Don't live in fear every time it rains. Total Foundation Solutions can install the Hydraway Drainage System to channel the water away from your basement for ultimate protection from water. 
Benefits of Installing a Drainage System
Waterproofing your basement is an invaluable investment for your home. A basement drainage system provides constant protection from rainwater and prevents expensive, damaging issues in your basement. 
While some issues may be minor and easy to fix, others can wreak havoc on your home and become very expensive to fix. Keeping a dry and healthy basement can protect it from mold growth, pest infestation, and musty odors. 
Why Choose Total Foundation Solutions
Total Foundation Solutions has helped many customers throughout Northwestern PA and Western NY protect their homes with our solutions. If you notice any symptoms of flooding or water damage, reach out to our Erie basement waterproofing specialists to learn more about our drainage system solutions.
Contact us today for your free basement waterproofing estimate!