ERIE EXTERIOR BASEMENT WATERPROOFING
When it comes to keeping your basement dry, there are both interior and exterior basement waterproofing solutions. Both methods are beneficial and meet certain needs depending on your property's specific situation. 
At Total Foundation Solutions, we have provided exterior waterproofing solutions for customers for over 30 years. Our variety of products will give you a complete exterior waterproofing system to protect your home. If your home is showing any symptoms of waterproofing issues, call our expert Erie exterior waterproofing company today to schedule your free inspection and receive a complimentary cost estimate anywhere in northwestern Pennsylvania and western New York!
What is exterior basement waterproofing? 
When you think of basement waterproofing, the first thing that comes to mind is likely interior waterproofing methods, such as sump pumps and perimeter drains. These methods of basement waterproofing are excellent at capturing water as it enters your basement and preventing it from causing damage. 
Exterior waterproofing, on the other hand, takes a proactive approach to basement waterproofing. Rather than capturing water that has already entered your basement, it prevents water from entering your basement or crawl space in the first place. 
Exterior basement waterproofing methods come in many forms, from downspout extensions to divert water from your home to waterproof spray used to seal exterior foundation walls.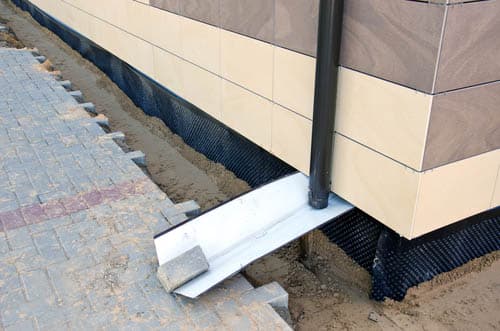 Our Exterior Basement Waterproofing Solutions 
Exterior waterproofing typically involves excavation around your home's foundation to properly install the waterproofing products. Our Erie exterior basement waterproofing company offers several different products, allowing us to better meet your unique needs, no matter where you're located in northwestern Pennsylvania and western New York. Our exterior (outside of house) waterproofing solutions include the following: 
Drainage system: A pipe is installed around the exterior perimeter of your foundation walls. An exterior drainage system is a great way to keep water away from your basement. A complete exterior drainage system is comprised of many different parts that all work together to keep your home protected.
Downspout extensions: Extensions that connect to your existing downspouts and channel water away from your home's foundation
Drainage mat: Designed to direct water away from your foundation
Waterproofing exterior walls: Flexible membrane waterproof spray that is applied to exterior foundation walls
Seal Exterior Foundation Walls with TUFF-N-DRI® Basement Waterproofing System
The experts at our Erie exterior basement waterproofing company use products on the outside of your house like the TUFF-N-DRI® Basement Waterproofing System. It is a flexible polymer-enhanced asphalt membrane that is flexible and applied to provide a minimum of 40 mils of protection when cured.
A benefit to the TUFF-N-DRI® system is that it is at least four times thicker than typical damp proofing products. Its spray application and elasticity allows it to seamlessly cover foundation cracks and provide ultimate protection against the potential for any future cracks.
No matter what season it is, the elasticity of TUFF-N-DRI® allows it to withstand any harsh weather conditions for constant protection from water damage. Hydrostatic pressure is no threat to this system as it is extremely durable and designed to protect your home from any outside source.
The system also comes with a foundation board, which provides even more protection against the membrane, helps with drainage, provides insulation for your basement walls, and reduces interior condensation.
Interior vs. Exterior Basement Waterproofing
What's the main difference between interior and exterior waterproofing solutions? While they both solve the same problems, it primarily depends on the extent of water damage as well as the homeowner's preference.
Here are two questions to ask yourself to help you decide which option is right for you: 
Have you already encountered basement water problems? 
If water has already entered your home, interior waterproofing products would be the best solution. If water has not yet entered your home, exterior waterproofing products would be a viable solution for future protection.
Do you prefer the look of interior or exterior waterproofing solutions? 
We have found that some customers don't want the intrusion of certain interior waterproofing products and prefer the work to be done outside the home. Although we keep the disruption of interior waterproofing to a minimum, some customers just prefer the discreteness of exterior basement waterproofing. 
Interior Waterproofing Solutions
Think that interior basement waterproofing might be for you, or just looking for additional protection? Our interior waterproofing system involves installing sump pumps, interior drainage systems, vapor barriers, waterproof wall panels, and other options. All of these systems work together to protect your basement from water damage. Visit our basement waterproofing page to learn more. 
Exterior Basement Waterproofing from Total Foundation Solutions
Total Foundation Solutions has served all of Northwestern Pennsylvania and Western New York with exterior waterproofing solutions for over 30 years. If you notice any water damage symptoms in your basement and aren't sure whether interior or exterior is the best choice, leave it to our experts for a recommendation.
We are happy to inspect your home's situation and answer any questions you may have about waterproofing. Contact us today for your exterior waterproofing estimate!
Exterior waterproofing solutions FAQ
Will exterior basement waterproofing damage my landscaping?
Exterior waterproofing systems can be installed during new construction or to existing homes, but it is typically recommended to be installed during new construction to avoid disruption to the existing yard.
At Total Foundation Solutions, we know how much homeowners care about their yard. We install our exterior waterproofing systems with minimal disruption and leave your house looking just as it was when we arrived.
How much does it cost to waterproof a foundation exterior?
The cost of exterior basement waterproofing, or sealing exterior foundation walls, will depend on a number of factors. How big your home is, your landscape, and which method of exterior basement waterproofing you choose should all be considered. For the most accurate cost estimate, call Total Foundation Solutions to receive a free inspection and quote!