Total Foundation's Concrete Sealing Services
Protecting the concrete on your property is important whether you've just built a new home or are updating your existing home with a new driveway, patio, or sidewalk. With over 30 years of experience in the foundation repair industry, our concrete sealing and resurfacing team in Erie has the knowledge and expertise to repair any concrete issue you may be dealing with. Reach out to our team today if you have any questions or would like to schedule a free inspection!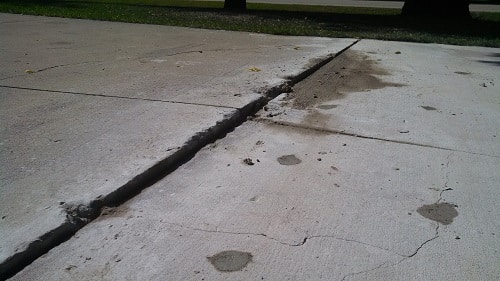 SealantPro Offers a Permanent Solution
While you can purchase a do-it-yourself sealant, they require you to reapply every few years. With Total Foundation's application of SealantPro™, you get permanent protection for your concrete in a single application that will extend the life of your concrete by 3-5 times. 
This product is developed by Supportworks and is a state-of-the-art material designed to bond with concrete at a molecular level. Get permanent protection against dirt, water, and other contaminants with just one application that dries quickly and cures in 6 hours—meaning you won't be kept off your own driveway or patio! 
Do you need to protect your concrete?
Absolutely you do, if you want it to last. Moisture finds its way into the pores of concrete that haven't been sealed and expands in cold weather—especially during a freeze-thaw cycle where the moisture becomes ice. Ice in your concrete means the pores are destroyed and the overall viability of the concrete is weakened.
Unsealed concrete cracks, flakes and becomes discolored—this affects more than just your curb appeal, it can be dangerous for your family and decreases the value of your home. 
When it comes to concrete floor repair, our concrete sealing experts in Erie recommend the simple, yet highly effective solution of SealantPro. This ensures the concrete surfaces on your property continue to look and perform as if brand new well into the future. 
Advantages of SealantPro
One and done - Just one application of SealantPro protects your concrete permanently.
A lifetime of use - With the protection offered by SealantPro the life of your driveway, pool deck, or other concrete structures will be extended 3-5 times—that adds up to well over 100 years!—this leads to added value to your home.
Protection you can count on - The formula penetrates concrete and creates a permanent bond that will protect from water damage and make stains much easier to remove.
New or old - SealantPro can be applied to fresh concrete, no need to wait until damage has already started beneath the surface.
Savings that add up - Because this is a one time, permanent solution to protect your concrete there's no need to spend money on reapplying a sealant every few years.
Keep a sure footing - SealantPro reduces the bonding of ice to your concrete surfaces, making it easier for you to remove ice during those cold winter months so you don't have to worry about slipping and falling on a sheet of ice.
Stays true - SealantPro is UV resistant so you don't have to worry about the sun discoloring your concrete.
FAQ About Concrete Sealant
How much does concrete sealant cost?
SealantPro™ is a cost-effective concrete sealant, offering a permanent solution—unlike urethane-based products available at DIY stores. 
Does SealantPro™ work on concrete that's been repaired with PolyLevel™?
Yes—we actually recommend that all PolyLevel™ customers use SealantPro™ to protect their newly lifted concrete.  
Do other contractors sell SealantPro™?
No. A proprietary product developed my Supportworks, SealantPro™ is exclusively available from Total Foundation Solutions and other Supportworks network members. 
If I want to permanently protect my concrete with concrete sealant—what's my next step?
Call us today to schedule an appointment. Our concrete sealing and resurfacing team in Erie will inspect your concrete and discuss your options and costs.