Foundation Wall Problems in Edinboro, Erie, Warren and nearby in PA and NY
If you have bowing, buckling, or cracked walls, we can help!
The condition of your foundation walls can tell you a lot about the safety and stability of your home. If you've noticed bowing walls, cracks in your walls, or sticking doors and windows, this could be an indication that you have serious foundation damage. If you think that might be the case with your home, call Total Foundation Solutions. We offer reliable, quality foundation and wall repair services in Erie, with over 30 years of experience in the industry. We can properly assess, diagnose, and repair any foundation wall issue, using solutions that last.
If you have buckling, tilting, bowing, or cracking foundation walls in your Erie home, reach out to us today at 814-208-9442 for a free repair estimate.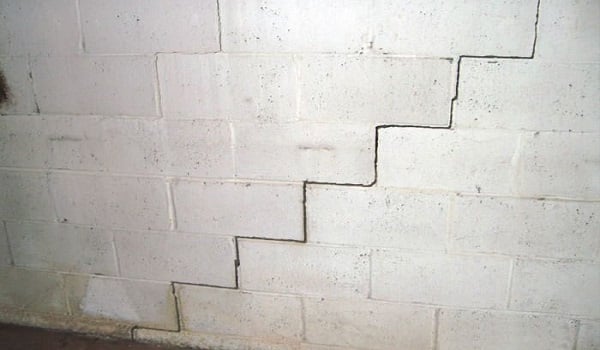 Know the signs. Stair step cracks are among the most common signs of potentially serious damage to foundation walls.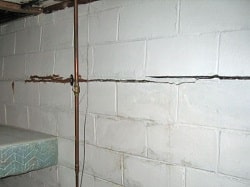 Bowing walls occur when the expansive soils outside exert too much inward pressure for the walls to contain. This hydrostatic pressure is due to moisture or frost expansion, and can result in inward bulging, walls leaning in at the top or bottom, diagonal cracks in the corners, and the classic "stair-step" crack along the wall. These problems spell serious problems for your home's structural integrity. We typically solve bowing wall problems with products like the GeoLockⓇ Wall Anchors, which can halt inward movement and provide much-needed stability.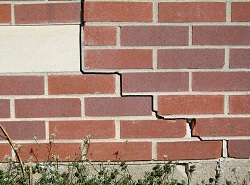 Wall cracks appear in many shapes and sizes, including stair-step cracks, diagonal cracks (typically around doors and windows), and both horizontal and vertical cracks along the length of the wall. Some cracks are caused by natural shrinkage of concrete, inward force from hydrostatic pressure, or foundation settlement. Small cracks are usually not a concern, but they should still be addressed. Large or expanding cracks could indicate more structural foundation problems. We often use foundation piers for Erie homes that show signs of settlement, as well as crawl space support jacks, to fix sagging or weak home structures. Our Erie foundation repair team can recommend the best course of action for you.
Collapsing Retaining Walls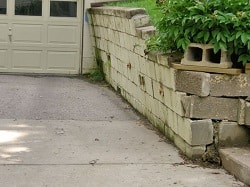 Retaining walls are meant to withstand lateral pressures caused by soil, but they can crack, tilt, or buckle over time. If your retaining wall is tilting, or separating from the adjacent structure, give us a call at Total Foundation Solutions. Many problems are caused by poor construction, expanding soils, and poor drainage, and we can address all these issues and more. We often used wall anchors and/or helical tiebacks to restore retaining walls and repair cracks, giving you reliable stability once again.
Restore your foundation walls in Northwestern PA and Western NY
Have you noticed damage in your foundation walls? Total Foundation Solutions is one of the top names in foundation wall and crack repair in Erie, and we're here to help. Get in touch with us today for your free estimate.