The Importance of Basement Waterproofing
Because of their location built within the earth itself, basements are prone to water issues. Whether you're living in an old house or new, a lot of pressure can be put on your home's basement walls from outside soils, which can cause water to leak through to the interior of your basement. Water in your basement can not only destroy the precious items you store there, it can lead to additional foundational and structural issues throughout your entire home. 
If you notice any signs of water damage in your basement, it's important to get it looked at right away before it becomes worse.
Our Erie basement waterproofing company has been helping customers throughout Northwestern Pennsylvania and Western New York for over 30 years.
How Can I Waterproof My Basement Myself?
Basement waterproofing can prove to be a tricky task for even the most seasoned DIY-ers. The issue with trying to do basement waterproofing on your own is that there are so many different causes of water damage in basements. Without being trained on the ins and outs of home foundations and basement walls, any DIY solution is likely to be ineffective. That's why we are happy to offer a free quote for our Erie basement waterproofing services, available across western New York and northwestern Pennsylvania. Get the peace of mind of knowing exactly what is wrong and how we are going to give you long-lasting basement waterproofing services. 
What are the Causes of Basement Water Damage?
There are many different factors that can lead to water damage in your basement. It's important to know the signs of water damage so that you can call in an expert right away for a basement waterproofing recommendation.
Most basements experience some degree of hydrostatic pressure that can cause water damage. This pressure comes from groundwater that pushes against your basement walls when the soil around them has become oversaturated due to heavy rains or inadequate exterior drainage. Water weighs about 8 pounds per gallon and thousands of gallons of water fall during the average rainfall, meaning thousands upon thousands of pounds of pressure are pressing on your foundation walls. The significant amount of pressure means the water will find a pathway forward in order to relieve the pressure, and that means the water is going to seep through your basement walls if you are lacking the appropriate basement waterproofing solutions. 
Water can manage to make its way through even the tiniest of cracks and lead to bigger problems over time. Unfortunately, water can make its way through cracks you likely cannot even see, so if you do notice even small cracks in your basement walls or basement floor cracks, call the basement waterproofing experts to find the solutions that will keep your problems from becoming worse.
Plumbing leaks can quickly cause water damage in any basement. Leaks can spring from above ground or underground pipes and cause flooding in your basement.
Depending on the severity of the leak, it can either quickly cause your basement to flood or can start to show signs of damage over a longer period of time. Either way, it's important to keep an eye out for any signs of plumbing leaks and to quickly find a suitable basement waterproofing solution.
A lot of household equipment, such as your furnace, water heater, and sump pump, is stored in the basement. Your water heater and your sump pump are the two main pieces of equipment that can cause a flood in your basement.
Water heater malfunction can quickly cause your basement to flood. If you have a sump pump installed and it fails to operate properly, there is nothing to keep water damage out of your basement.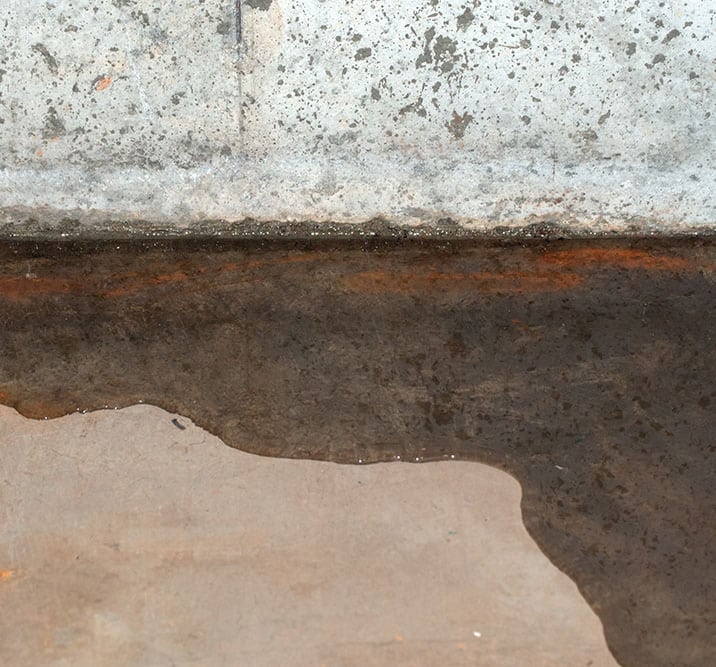 Signs Your Basement Needs Waterproofing
Some signs that you could use the services of our Erie basement waterproofing company are more subtle than others, and have the potential to be very dangerous to your health. If you notice any major or subtle signs of water damage in your eastern Ohio, northwestern Pennsylvania and western New York home, it's best to contact us right away for a recommendation on basement waterproofing solutions.
Here are some of the signs your basement needs waterproofing: 
Mold Growth
Musty Odors
Wood Rot
Pest Infestation
How do I stop water from seeping into my basement?
At Total Foundation Solutions, we offer a number of different basement waterproofing solutions to keep your basement dry and healthy.
Whether you need a minor fix or a complete waterproofing system installed, our team at Total Foundation Solutions can provide your home with the proper basement waterproofing products to protect it from water damage.
We offer the following basement waterproofing solutions:
Offered to our customers across eastern Ohio, western New York, northwestern Pennsylvania, and Erie, basement drainage systems are installed along the perimeter of your basement to collect water at the wall and floor joints. The water is channeled away from your basement with our system that utilizes a filter fabric which keeps the channels and drains from clogging.
Keep your basement dry by directing water out of and away from the home with our Erie sump pump installation services, available in northwestern Pennsylvania, western New York, and eastern Ohio. They are placed in the lowest part of the basement where they collect water in a sump pit, then pump the water out of the pit and away from the home. Sump pumps are a staple of every home's waterproofing solutions.
Vapor barriers can be placed on the walls, floors, sealing, and roof of a basement to prevent moisture and condensation from entering the home. These offer quick installation that can provide complete waterproofing and also significantly brighten the look of your basement. 
Waterproof wall panels protect your basement from water damage and cover up unsightly concrete walls. We install DrySheild Waterproof Wall Panels which provide an attractive and cost-effective way to waterproof your basement.
Why Choose Total Foundation Solutions for Basement Waterproofing
Customers throughout Northwestern Pennsylvania and Western New York have benefitted from our basement waterproofing solutions for over 30 years. We have proudly protected basements and have helped homeowners avoid the dangers caused by basement water damage.
Contact us today for your free basement waterproofing estimate!