When you need the best foundation repair in Erie, look no further than Total Foundation Solutions. We have over 30 years of expertise, and we can restore your home to its optimal safety and stability. If you have noticed any kind of sinking, settling, tilting, or cracking of your foundation, it could mean that you have foundation damage. Thankfully, there are a few great options for repair, including helical piers, which offer a permanent solution to these sorts of problems. One of our technicians can come to your home for a free estimate and determine whether helical piers would work for your foundation issues.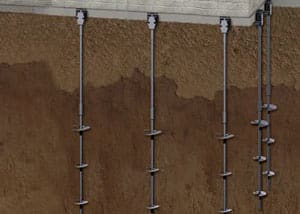 Strong and stable. Our pier system will permanently solve your foundation settlement problem.
Total Foundation Solutions is proud to offer comprehensive foundation repair services throughout the Erie area, and we have seen the difference that helical piers can make in the integrity of a home. These piers are made from durable, corrosion-resistant steel, and look like big screws with a long shaft and rounded blades at the bottom. Helical piers are driven deep into the soil, past the upper dirt and into the underlying load-bearing soils, for optimal stabilization of your structure. These can be used for home foundations, as well as smaller structures like patios, decks, stairwells, and more. 
Our Erie helical pier installation team will thoroughly assess your property and create a customized plan for your unique pier placement and depth. With this type of reliable support in place, you can rest well knowing your home is safe and secure. Helical piers can solve your foundation settling problems efficiently and effectively. When you want the best foundation support system on the market, contact Total Foundation Solutions and ask us about helical piers!
Contact Us
If you notice problems with your home's foundation, don't delay. Foundation issues can put you and your family at risk. We're here to restore your home with a custom helical pier system, so reach out to us for your free inspection today.