Slab Piers Installed in Erie
For homes that are experiencing foundation settlement, there are several repair options available. Here at Total Foundation Solutions, we have worked in a huge variety of conditions, helping people like you feel safe and stable in their homes again. Our crew of Erie foundation repair experts can assess your property and recommend the best solutions for your situation, including foundation piers. 
Foundation piers are a broad class of products that can lift and level your sinking foundation and restore structural integrity to your home. These are durable, long-lasting, and efficient, distributing the weight of your property evenly for the ultimate stability. There are several styles of piers, but slab piers are a type of push pier—a vertical shaft that is advanced through the ground to reach the deep, stable ground beneath the settlement. The shaft is attached to a specially designed bracket, which connects the pier to the underside of the concrete slab. This can not only stabilize but also lift the slab back to its original position. 
Installation of slab piers is a non-destructive repair and requires less time and demolition than some other forms of foundation repair. The piers are driven into the ground near the settlement site to the proper depth, and your concrete slab is raised and leveled. For extra durability, grout is filled in around the pier underneath the slab, and concrete is poured over the holes used for the slab pier installation, for a seamless look.
Total Foundation Solutions is your trusted provider for foundation repair and slab pier installation in Erie, and we can determine if your property is a good candidate for slab piers. If you have been looking for an effective and long-lasting solution to your sinking or settling concrete, you've come to the right place.
Reach out to our team of slab pier installation experts in Erie today, and ask for your free estimate!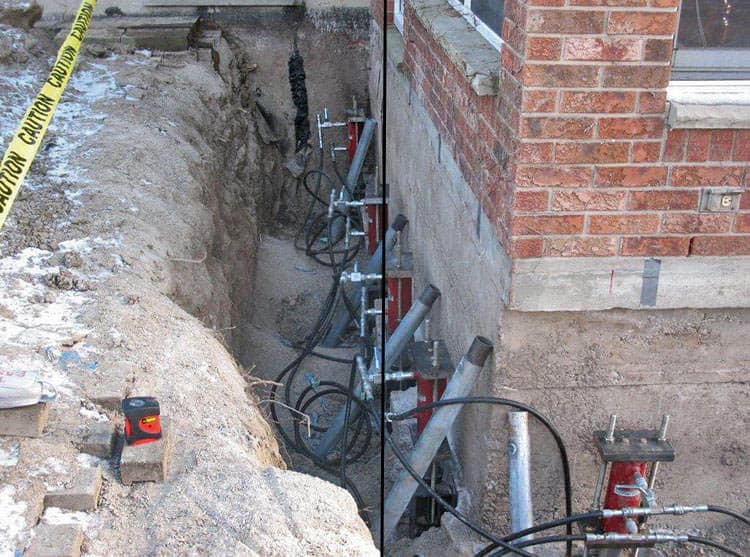 Strong and stable. Our pier system will permanently solve your foundation settlement problem.