Erie PA Foundation Drainage Boards
There are a number of tools available in the fight against water damage. Here at Total Foundation Solutions, we often utilize foundation drainage boards, also called drainage mats or panels, to encourage proper water flow and to keep moisture from seeping into the foundation. If you have yet to invest in waterproofing for your Erie home's foundation, now's the time. Don't wait until it's too late and you end up dealing with water intrusion in your home, ruined belongings, or structural damage. We can install the most effective waterproofing strategy, including products like drainage mats, for your Erie home.
The top foundation waterproofing company in Erie offers drainage boards that are specially designed mats that direct water flow away from the foundation of your home. The innovative dimpled design allows for air movement, prevents clogging, and keeps water from seeping or standing against the foundation walls or slab floor. Certain foundation drainage mats waterproof your Erie basement or crawl space, and provide additional insulation for homes in colder climates. The mats are typically installed on the exterior of the foundation, along with other waterproofing barriers and drainage systems that ensure optimal protection.
Any water that reaches your foundation walls can effortlessly be channeled away with a drainage mat. Without a drainage board on your Erie home, water can pool around your foundation and potentially seep into your basement. Even if it doesn't get inside, the soil around your foundation can absorb this water. 
Total Foundation Solutions is the trusted name for home waterproofing in Erie, and any one of our specialists can consult with you to determine if your property is a good candidate for drainage mats. We typically recommend installing the foundation drainage boards at the same time as any other foundation repairs, or if you are having drainage pipes installed. Installing a professional waterproofing strategy will give you tremendous peace of mind, knowing your home and belongings are protected from water damage.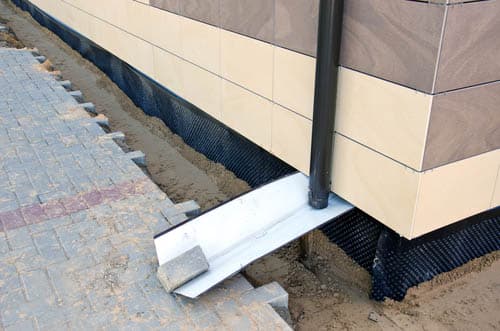 Come to Total Foundation Solutions for all your Erie basement waterproofing needs, and ask us if drainage mats are right for your Erie property. Get in touch with our team today to schedule your free inspection and estimate!