We have been fixing sinking foundations in Jamestown with slab piers, helical piers, and push piers for over 30 years!
Foundation settlement may be a common problem, but that doesn't mean it's not serious. If foundation issues are left unaddressed, you could be facing many dangerous and expensive issues down the line. Thankfully, our foundation repair team is here for you! Total Foundation Solutions provides foundation pier installation services in Jamestown, including helical piers, push piers, and slab piers, to fully restore your home's structural integrity.
We are proud to be one of the top names in foundation repair services in the Jamestown, NY area, and we offer appropriate solutions depending on your unique circumstances. Helical piers, slab piers, and push piers each address a different kind of issue within the foundation, and you can trust our team to know which one is right for your case. We have over 30 years of experience in repairing foundations, and we can create a custom solution for your home.
If your foundation is sinking, settling, or showing other signs of damage, reach out to us today for your free, no-obligation inspection and estimate. Simply call the top foundation pier installation company in Jamestown, NY at 814-208-9442 or fill out our online contact form.
We Use High-Quality Foundation Piers
As a valued member of the International Supportworks Network, we have access to some of the best products and training in the industry. We can provide world-class engineered foundation piers and other repair products, and our team is trained on the safe and proper installation of these piers. Supportworks piers have been specially designed for optimal stability and longevity, and require only minimal disturbance during installation. Each of their helical piers, push piers, and slab piers is highly reliable for a variety of applications.
Total Foundation Solutions can install both the black steel and galvanized steel pier systems, and we stand behind these products with confidence. These piers come with a 25-year manufacturer's warranty, and we also provide our own installation and performance warranties, for your peace of mind.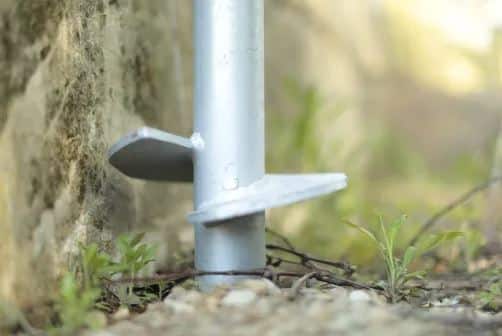 Common Problems With Foundations in Jamestown, NY
Top of the wall bowing inward
Horizontal or vertical foundation cracks
Cracked or sinking slab
Sticking windows or doors
Tilting chimney
Our Jamestown Foundation Pier Installation Company Can Help!
Don't put off foundation repair any longer—it will only get worse! Contact us now for a free inspection and estimate on installing slab piers, push piers, or helical piers in Jamestown, NY. Call 814-208-9442 or fill out our online contact form.