Concrete Repair in Jamestown, NY
Is your home's concrete in need of repair? Do you have cracks in your sidewalk or is your pool deck sinking? You've come to the right place! Total Foundation Solutions is your local expert in concrete repair and foundation leveling, and we're here to help, no matter the job. Concrete slabs are used in many different applications, in both residential and commercial properties, and while concrete tends to be durable, there are many ways it can fail. Depending on your soil, moisture, temperature changes, and other factors, your concrete slabs may shift, settle, crack, or sag. In some cases, this damage is severe enough to cause a health and safety hazard. Thankfully, our concrete repair and PolyLeveling contractors in Jamestown can make things right again.
If you are dealing with damaged concrete, don't ignore it and potentially end up with a more serious issue like moisture buildup or structural problems. Thanks to the innovative products and techniques our team uses in Jamestown, concrete repair and foundation poly leveling solutions have only gotten more advanced, removing the need for a major excavation when repairing unstable slabs. We pride ourselves on our workmanship, making sure we do the job right, using only the best materials. Whether you need your home's driveway repaired, your commercial warehouse re-floored, or something else, you can count on our friendly, experienced technicians at TFS. Our concrete repair and foundation leveling team have worked on all types of concrete projects, including pool decks, sidewalks, driveways, foundations, patios, roadways, and more.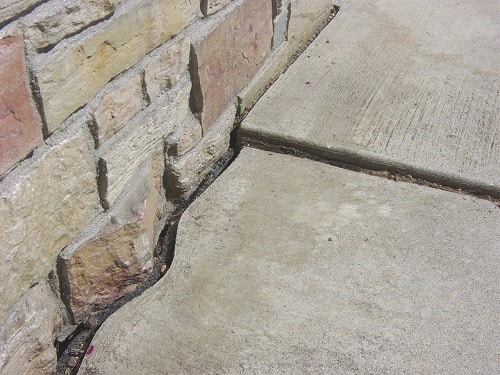 Sinking concrete sidewalk
Solutions
Total Foundation Solutions offers two main solutions for foundation Polyleveling and concrete repair in Jamestown, NY, one of which is likely to fix the affected slab.
PolyLevelⓇ: For sinking slabs, PolyLevel is a state-of-the-art solution that uses a lightweight, expanding foam material that gently lifts sunken slabs back into place when injected below them.
Concrete Sealant: The best way to avoid future pitting and flaking is to seal concrete as soon as it's installed and set. Our team can apply a sealant that offers permanent protection from UV rays, harmful chemicals, water damage, and more.
Contact Total Foundation Solutions
When you want results that are durable, reliable, and cost-effective, don't go to just any concrete repair company. Come to Total Foundation Solutions, and let us take good care of you. Get in touch and ask about scheduling your free estimate today!