Commercial PolyLevel® Concrete Leveling in Jamestown
Quick and affordable concrete repair and soil stabilization
Total Foundation Solutions is a trusted contractor for commercial concrete repair in the Jamestown area, and you can count on our team to go the extra mile for you. We offer a range of services, including concrete lifting, leveling, and stabilization of applications like sidewalks, roadways, driveways, and warehouse floors. Thanks to the versatility of the Supportworks PolyLevel® System, we can apply this tool to any size job.
There are many reasons why so many people are turning to PolyLevel for their industrial, commercial, and municipal concrete repair needs. This innovative two-part polyurethane foam is extremely durable and effective, offering permanent concrete stabilization. The foam expands to fill any voids under the slab and can be used to fix a huge number of structural and geotechnical problems. 
The team here at Total Foundation Solutions is experienced in the PolyLevel concrete repair technique and can assist you in your commercial concrete repair projects in the Jamestown area. Call us at 814-208-9442 to request a consultation about your project!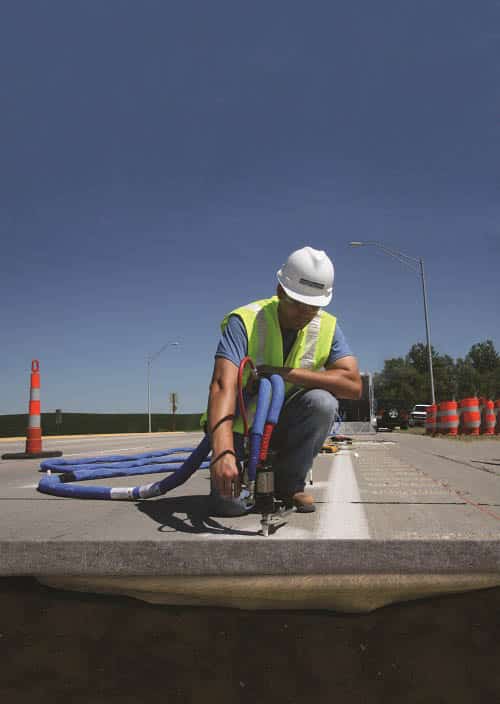 PolyLevel® works for a wide range of applications:
Pre-construction soil stabilization
Void filling and erosion control
Repairing industrial building and warehouse floors
Leveling uneven sidewalks and driveways
Leveling uneven roads and bridge approaches
Airport runway and railroad repairs
You can trust our team to find the perfect PolyLevel formula for your specific needs, from void filling, joint stabilization, soil stabilization, or concrete lifting and leveling.
Advantages of PolyLevel® for commercial use
PolyLevel provides a great alternative to total concrete replacement or mudjacking techniques. This technique offers many unique benefits and features:
Quick cure time- While mudjacking can take several days to cure, the PolyLevel foam is ready for loading after only 15 minutes!
Lightweight- The polyurethane foam weighs only 4 to 6 pounds per cubic foot, while traditional mortar materials weigh nearly 120 pounds per cubic foot.
Environmentally-friendly- PolyLevel allows us to keep concrete out of our landfills and it won't break down or leach into groundwater.
Waterproof- The innovative foam is completely waterproof and can withstand many freeze/thaw cycles, and can be used to stop infrastructure leaks.
Non-invasive- PolyLevel equipment can fit into tight areas when needed, and the process won't disturb your landscaping.
High capacity- No hydraulic pressure needed here—the polymer expansion can handle higher loads than traditional mudjacking. 
Accurate lift- The precise reaction time of the expanding foam allows for targeted lifting of the concrete slab.
Get an estimate on commercial PolyLevel® installation
Total Foundation Solutions is here for all of your Jamestown commercial concrete repair needs. Get in touch with us today to learn about PolyLevel and how it can solve your concrete settlement problems. Contact us today for your free estimate!