Youngstown Retaining Wall & Crack Repair
Total Foundation Solutions offers Youngstown industry-leading retaining wall and foundation repair for cracking, bowing, buckling.
If you have bowing, buckling, or cracked walls, we can help!
Are your foundation walls starting to show signs of damage, such as cracking, buckling, or bowing? If so, these may indicate serious foundation trouble. The trained professionals at Total Foundation Solutions can assess your home and diagnose the underlying cause. We can then provide you with a long-term solution.
If you are noticing cracking, bowing, or buckling in the foundation walls of your Youngstown home, our foundation wall repair contractors can help! Call Total Foundation Solutions today at 330-355-9885 for a free estimate.
Bowing Walls
While visibly bowing walls are an obvious sign of trouble, there are a few other things to look out for. When walls begin bowing, cracking along the foundation wall can appear. Such cracks could potentially lead to severe damage to the structural integrity of your home over time. It can also negatively impact your property value. Total Foundation Solutions can help restore the stability of your home, protecting your investment. 
One of the repair methods we use is called GeoLock® Wall Anchors. These secure your walls to more stable soil, preventing further movement.
Wall Cracks
When the foundation of a home settles, or the surrounding expansive soils shift, cracks in your walls can occur. The appearance of these cracks will vary from diagonal cracks at the corners of doors or windows to vertical, horizontal, or stair-step cracks along a wall. Small cracks are not always something to worry about, but larger cracks may indicate foundation trouble.
To put your mind at ease, call the experts at Total Foundation Solutions. Our crack repair and foundation wall repair contractors in YoungstownWe will assess the cracks in your home and determine the best solution. Some repair options we utilize are foundation piers and crawl space support jacks.
Collapsing Retaining Walls

Damaged retaining walls require repair to prevent them from failing in the future. If you see separation from the adjacent structure or tilting at the top of the wall, you will want to have an expert conduct an inspection. The two main repair options we use for damaged retaining walls include wall anchors and helical tiebacks. Contact our retaining wall repair team in Youngstown for a free estimate!
Restore your foundation walls in Youngstown
Whether you need crack repair, retaining wall repair, or foundation wall repair services for your Youngstown home, call Total Foundation Solutions today. Our experienced team provides comprehensive foundation repair services to help protect your home now and into the future. Request your free estimate today!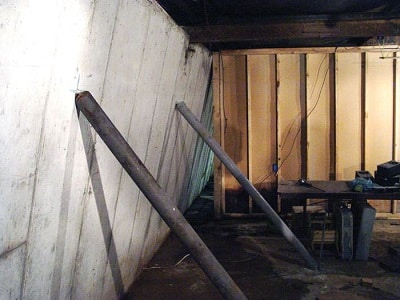 Protect your foundation. Your foundation is too important to take risks with, which is why we provide complete repair and stabilization solutions.