Youngstown Exterior Basement Waterproofing
You have options for maintaining a dry basement, both externally and internally of your home. They both provide their own benefits and they reach their maximum potential when combined, but your specific property's situation may require only one or the other to be just as effective.
At Total Foundation Solutions, we have provided over three decades of exterior waterproofing solutions to our neighbors in the Youngstown area, and we're here to help you as well. Give us a call today for a free quote on waterproofing solutions for your home!
What is exterior basement waterproofing?
The most common methods of interior waterproofing involve sump pumps and strategically located drains around your property to ensure the safe removal of any unwanted water that might enter your home. These are often what people will think of first when they consider waterproofing their basement. 
However, there are also exterior methods that may serve your home or building better. Rather than being reactive to a potential flooding situation, such as with the aforementioned methods, exterior waterproofing involves the prevention of water from entering your basement from outside. 
These methods come with many options, such as using a waterproof sealant to secure the perimeter of the outside of your home to diversion paths that will guide any excess water away from your home.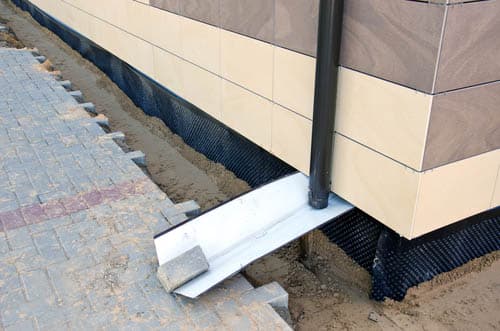 Our Exterior Basement Waterproofing Methods
Though exterior basement waterproofing involves tedious amounts of disruption via excavation, Total Foundation Solutions has come up with several other options that allow for equally impressive results in a quicker time span, all while being less invasive. Some of these solutions include:
Drainage systems: Water is kept away from the interior of your home by installing a pipe around the perimeter of your home that guides excess water away.
Downspout extensions: Add-ons to the downspouts that you already have, giving them an even greater ability to remove excess water away from your home.
Drainage mats: Another method for guiding excess water away from your building.
If you would like to learn more about the exterior basement waterproofing solutions we offer the Youngstown area, contact our team of experts at Total Foundation Solutions today!
Will exterior basement waterproofing damage my landscaping?
Exterior waterproofing systems can be installed during new construction or to existing homes, but it is typically recommended to be installed during new construction to avoid disruption to the existing yard.
At Total Foundation Solutions, we know how much homeowners care about their yard. We install our exterior waterproofing systems with minimal disruption and leave your house looking just as it was when we arrived.
How much does it cost to waterproof a foundation exterior?
The cost of exterior basement waterproofing, or sealing exterior foundation walls, will depend on a number of factors. How big your home is, your landscape, and which method of exterior basement waterproofing you choose should all be considered. For the most accurate cost estimate, call Total Foundation Repair to receive a free inspection and quote!