Concrete Leveling & Lifting in Youngstown
Concrete Leveling with Polyurethane Foam: Fast, Effective, Permanent.
At Total Foundation Solutions, we utilize the method of concrete leveling to effectively restore concrete and prevent tripping hazards or water pooling issues on your concrete walkways, pool decks, driveways, and other concrete slabs. This is the perfect solution if you're experiencing concrete sinking or cracking on your property. Our process is made possible by using the tried and true material known as polyurethane foam.
Polyurethane foam is a quick, cost-effective, and proven concrete lifting and leveling solution. By utilizing polyurethane foam, the demolition mess is avoided, as it's not necessary to remove and replace the existing concrete. Polyurethane foam can quickly restore the existing concrete's safety and aesthetic.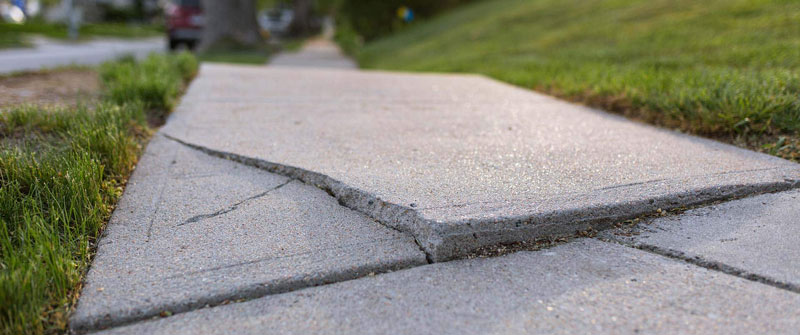 Why Does Concrete Sink?
Concrete sinking, whether for a patio, walkway, or garage floor, is caused when the supporting soil beneath the slab begins to shift or erode. When the soil moves, empty space is created between the concrete and the ground. As a result of this newly formed void, the slabs of concrete will sink, which causes problems such as cracked and unlevel surfaces.
To solve this problem, it is crucial to fix it at its source. With polyurethane foam, the spaces that are created by shifting soil are immediately filled, and the slab is lifted to its original level position. This produces long-term results and impressive improvements to the concrete's structural integrity and its appearance as well.
Get a Free Quote
If you've seen these common concrete issues, reach out to our concrete leveling and foundation Polyleveling team in Youngstown for a free quote.
How Polyurethane Foam Works for Concrete Raising and Leveling
Our Polyleveling team in Youngstown uses polyurethane foam in a variety of different capacities, ranging from commercial properties to industrial and municipal, making it the perfect solution for your concrete repair needs.
This high-density foam is injected through small holes that are drilled into the concrete and then expands and hardens, filling voids and supporting the slab. This process permanently improves the stability of the concrete, creating an accurate, effective, and waterproof leveling solution. 
If you'd like to learn more about the concrete lifting and leveling solutions offered by Total Foundation Solutions, contact us for a free estimate today!
Contact Total Foundation Solutions
Our team offers free concrete leveling and lifting in Youngstown, OH, so you can get to the bottom of your home's issues. Contact our team today to schedule your no-obligation inspection!