House Settlement & Sinking Foundations in Jamestown
We repair sinking foundations caused by weak or expanding soils and hydrostatic pressure
Have you noticed bowing foundation walls, sloping floors, cracks in your basement concrete, or other signs of a sinking foundation or house settlement in your Jamestown home? You may be thinking it's a problem with your foundation, and while you may be right, it could actually be a problem with the surrounding soils.
During construction, a lot of soil is removed to make space to pour the foundation. Once that's done, much of that soil is replaced as backfill. But this backfill is not as stable or compact as the native soil, and this can eventually lead to issues. Here at Total Foundation Solutions, not only do we provide foundation crack repair in Jamestown – we can also address larger issues like house settlement caused by sinking foundations and help you protect your home from future damage.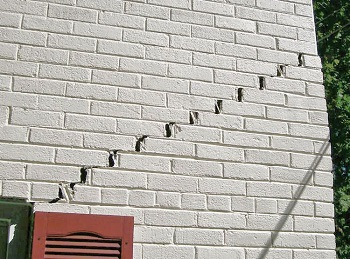 Stair step cracks on walls are a common sign of foundation problems caused by settlement and soil issues.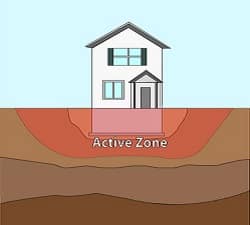 The qualities of your foundation soil have a huge impact on the health and stability of your home. Sandy and loamy soils behave differently than clay soils, and each soil type absorbs moisture differently. How your home's soil adapts to moisture cycles, including drainage and erosion, is key to understanding how your Jamestown house settles from a sinking foundation, how to repair cracks in the foundation, and how to prevent future issues.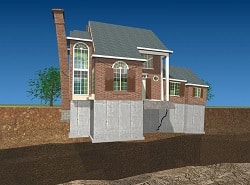 The soil underneath your foundation has many layers, including native soil and backfill soil. If these layers can't support the weight of your home, you'll experience foundation sinking and find your Jamestown house settling. This process may be slow, but can show up as cracking floors and walls, sticking doors and windows, and bowing basement walls.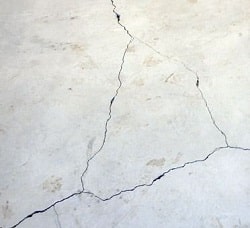 Foundation heave happens when your home's underlying soil becomes oversaturated with moisture, causing upward pressure on your structure. Heave creates the same symptoms as foundation settlement, but these two conditions are treated differently. This is why it's important to have a Jamestown foundation crack repair specialist assess your foundation and its surrounding soil.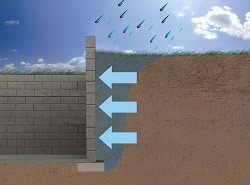 The backfill soil around your foundation is not compact like the virgin soil, and easily takes on water. When it does, it expands and puts pressure on your foundation walls, which can result in cracking, bowing, and water leaks, and eventually foundation failure.
We offer foundation repair services for foundation soil problems
If you've noticed any signs of a sinking foundation or house settlement in your Jamestown home, it's time to give us a call at Total Foundation Solutions. We're your trusted Jamestown foundation repair experts, and we can solve all kinds of soil-related foundation problems. Call us at 814-208-9442 or fill out our online form to get your free estimate!