Crawl Space Repair in Jamestown, NY
It can be easy to forget about your crawl space. After all, this dark, dirty area is often "out of sight, out of mind" for most homeowners. However, this can allow crawl space problems to develop without you even knowing about them. It's important to know the condition of your crawl space so you can address any hidden issues. Total Foundation Solutions is your trusted team for crawl space repair in Jamestown, NY. Our crawl space waterproofing experts can properly diagnose and fix all the most common crawl space problems that our local homeowners experience.
Because crawl spaces tend to be neglected, poorly waterproofed, and have poor air circulation, many problems may arise here. These are some common issues that we've found in crawl spaces around Jamestown that require repair:
Common Problems in Jamestown Crawl Spaces
Water Damage
Water infiltration, floods, or uncontrolled humidity in your crawl space can lead to things like rotting wood joists or beams, damaged electrical wiring, and damage to insulation material. As the top basement and crawl space waterproofing experts in Jamestown, we've seen what the wet summer and autumn weather can do to unchecked moisture in your home.
Insect Infestation
Many pest animals and insects are drawn to dark, damp, dirty spaces. If your crawl space isn't properly sealed or cleaned your home could play host to snakes, rodents, raccoons, termites, spiders, and more.
Mold + Mildew Growth
Another major result of too much humidity is the appearance of mold and mildew. Without professional mold removal from the crawl space of your Jamestown home, potentially toxic molds can continue to grow in your crawl space, contaminating the air circulating through your home and presenting a health risk.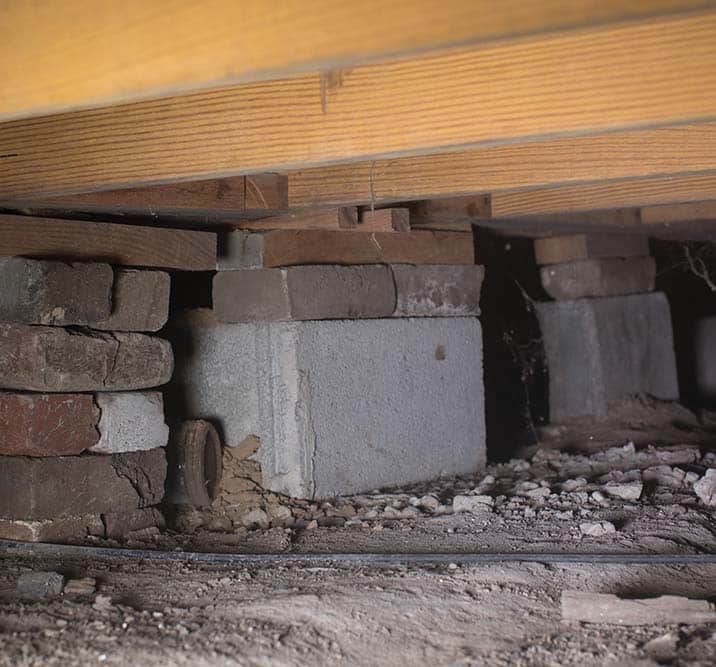 The condition of your crawl space affects your entire home. If your crawl space is damaged due to water, insects, mold, or other hazards, it can reduce the comfort and safety of your home. Thankfully, the Jamestown crawl space experts at Total Foundation Solutions are here to help. We can assess your crawl space and offer effective repair options for whatever issues we find. We are proud to offer professional crawl space waterproofing in Jamestown, as well as mold removal, encapsulation, crawl space support post installation, dehumidifier installs, and more.
Don't go another day without knowing the status of your home's crawl space. Call the crawl space waterproofing and repair company Jamestown trusts today to set up your free inspection and estimate. We're not afraid to explore that dark scary place beneath your floor.