HOW TO MAINTAIN LAKE PROPERTIES
Whenever you own a home, it's important to do what you can to protect your investment from outside threats. Moisture is a major hazard for any home, but especially waterfront properties. We've seen the additional concern that water becomes for homes situated near lakes and rivers. Total Foundation Solutions of Jamestown, NY knows lake house maintenance tricks to protect your home.  Thankfully, we have the experience, skills, and products needed to safeguard any type of property from moisture-related damage.
PREVENTION IS KEY
Instead of waiting for your beautiful waterfront home to be flooded, filled with mold, or structurally damaged, why not invest in professional home waterproofing services for your Jamestown, NY home? This is one of the best things you can do for the health, longevity, and value of your property. Our Jamestown, NY, foundation and home waterproofing contractors can recommend the best strategies to protect your home, which can give you priceless peace of mind. We use both interior and exterior waterproofing methods for lakeside properties, including perimeter drains, vapor barriers, drainage mats, waterproof wall panels, sump pumps, and more.
PROTECT YOUR LAKESIDE HOME
Even if you never see visible flooding on your waterfront property, that doesn't mean that your home isn't at risk for moisture damage. Living near a body of water means higher humidity, wetter soil, and other potential hazards. If your home has too much moisture, it can lead to mold growth, wood rot, concrete settling, and other serious problems. Your home needs to remain dry in order to maintain structural integrity and to keep your interior air clean for you and your family. 
The right home waterproofing services for your Jamestown, NY property can safeguard against water damage. Based on the condition of your lake house, our Jamestown, NY, home waterproofing experts will recommend the best options to reduce your risk of water-related problems. This may include a mix of both interior and exterior waterproofing methods.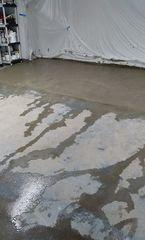 WATERPROOF YOUR LAKE HOME TODAY
Whether you just bought a new waterfront home or you've lived there for a while, now's the time to schedule your free, no-obligation estimate with Total Foundation Solutions. Contact us today to get started and get your Jamestown, NY home waterproofed!