Ashtabula Concrete Repair Contractor
Broken, cracked concrete creates a tripping hazard and looks unappealing. For these reasons, it can be hazardous for your family and drastically decrease the value of your home.
Total Foundation Solutions cares about the whole health of your home. We go beyond foundation repair, offering solutions for broken or settling concrete to ensure your home is safe, healthy, and able to protect your family for years to come.
Symptoms
Symptoms of broken or poorly installed concrete are typically superficial.
Settling or Sinking: Much like foundation slabs, driveway, garage, pool decks, and sidewalk slabs can also sink, settle, or shift over time due to the movement of supporting soils. Our Ashtabula concrete leveling team is prepared to help you address these issues. 
Cracking: Whether large or small, cracks in concrete are a sign you could use repairs. Concrete resurfacing in your Ashtabula home could be the solution.
Flaking: Flaking or chipping concrete is caused by excess water. Too much water in the concrete mixture, excess water contacting the slab before it has set, or the concrete mixture freezing before it has set are the three most likely causes of chipping concrete.
Pitting: Small holes that can deepen over time will sometimes appear in concrete that was improperly mixed or improperly finished by the installation team, but they can also be the result of old age.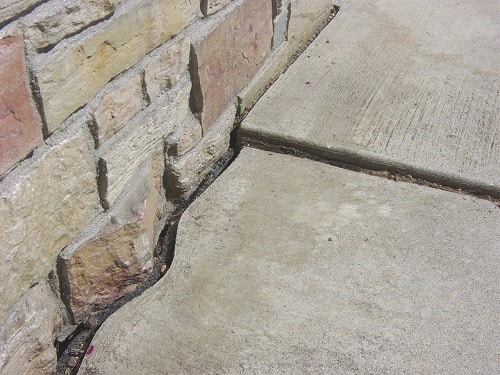 Sinking concrete sidewalk
Solutions
Total Foundation Solutions offers multiple Ashtabula concrete repair services, one of which is likely to fix the affected slab.
PolyLevelⓇ: For sinking slabs, PolyLevel is a state-of-the-art solution that uses a lightweight, expanding foam material which gently lifts sunken slabs back into place when injected below them.
Concrete Sealant: The best way to avoid future pitting and flaking is to seal concrete as soon as it's installed and set. Our team can apply a sealant which offers permanent protection from UV rays, harmful chemicals, water damage, and more.
Contact Total Foundation Solutions
Total Foundation Solutions has been serving Ashtabula's concrete repair needs for years. See the difference a professional team can make when you contact us today for your free inspection.