Concrete Leveling & Resurfacing in Youngstown
Uneven concrete surfaces are very common in driveways, sidewalks, patios, pool decks, or steps. This can create dangerous tripping hazards for your family and potentially lower your home's value.
We pride ourselves on offering our customers the highest quality services possible to provide a safe, even surface. Our concrete leveling and resurfacing experts in Youngstown use a full range of innovative concrete repair products to quickly level your concrete with a quick cure time.
What Causes Concrete to Sink?
Incompetent soils are the main problem with it comes to sinking concrete. Heavy rain storms can cause the soil underneath your concrete slabs to wash out and lose its ability to support the weight of the concrete. The washout creates voids in the soil and causes it to shift and settle, resulting in uneven concrete above.
It's important to address the soils to ensure that the slab doesn't settle again in the future. Mudjacking is a popular method for leveling concrete, but unfortunately, it does not help fix the problem soils and can eventually washout again. In order to address the soils and create a permanent solution for level concrete, our team at Total Foundation Solutions uses PolyPier® to lift concrete slabs.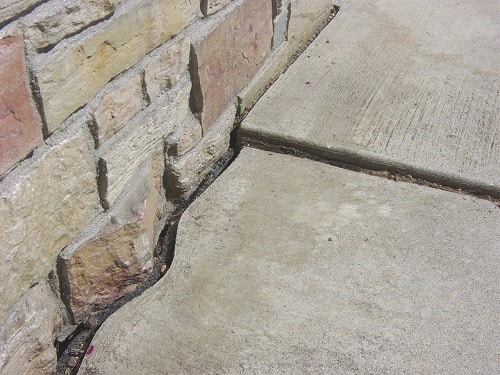 Sinking concrete sidewalk
Advantages of PolyPier® Concrete Leveling System
We've done our research and have found that PolyPier® comes with many different benefits and provides our customers with a quality solution for concrete leveling. It is a high-density foam that we inject into the soil underneath the sunken slab. Once injected, it expands and hardens to lift the sunken slab back into place. The material is waterproof and will prevent any future settling.
PolyPier® provides the following benefits:
Easy installation with no demolition
Cures quickly
Low overhead costs
Waterproof, permanent solution
Environmentally friendly
Rely on our expert Youngstown concrete repair contractors to level your concrete for a safe, even surface for your family to enjoy.
Call us today at 814-208-9442 to schedule your free concrete leveling appointment!
Contact Total Foundation Solutions
Total Foundation Solutions has been serving Youngstown's residential and commercial concrete repair needs for years. See the difference a professional team can make when you contact us today for your free inspection.