State College Exterior Basement Waterproofing
Total Foundation Solutions recommends that all homeowners in the State College area should have quality exterior basement waterproofing complete with an effective drainage system in order to protect their home. These systems excel at keeping water out of your basement or crawlspace, which is a major cause of foundation issues and water damage. 
Our State College exterior basement waterproofing and drainage system professionals have the tools, knowledge, and experience to make sure your home stays safe and dry year round. We know which products and equipment work best for drainage systems, and you can trust our experts to work hard until the job is done the right way. 
What is exterior basement waterproofing? 
While interior waterproofing uses systems like sump pumps and perimeter drains to capture water that pools in the basement and channels it out of your home, exterior waterproofing follows the opposite method by stopping the water from entering your basement or crawlspace. 
This proactive approach helps prevent water damage and foundation soil erosion before it even happens. 
Effective exterior basement waterproofing systems include downspout extensions that carry water away from your home and waterproof sealant which sprays on to your foundation walls for maximum water protection.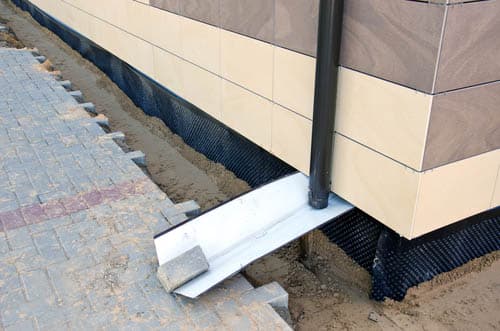 Exterior Waterproofing Methods We Use
Your State College exterior basement waterproofing and drainage systems will be installed by our experts through excavating out the perimeter of your foundation. We install a variety of waterproofing systems for homes and businesses, including:
Drainage Systems: Our State College drainage system experts will install pipes around your basement walls to direct water out from your home.
Downspout Extensions: These increase the reach of your home's existing downspouts, letting them move water farther away from your home's vulnerable areas.
Drainage mat: A drainage mat keeps your foundation safe by channeling nearby water away.
Waterproofing exterior walls: A membrane is sprayed along your foundation that will waterproof the walls.
The TUFF-N-DRI® Basement Sealant System Will Waterproof Exterior Foundation Walls
You can rely on our State College exterior basement waterproofing company for the best products to protect your home, and that includes the advanced TUFF-N-DRI® Basement Waterproofing System. TUFF-N-DRI® is a polymer enhanced asphalt membrane that is both flexible and strong enough to withstand the local weather. 
Designed to be at least 4 times thicker than normal waterproofing products, the TUFF-N-DRI® delivers the best defense against the creation of future foundation cracks. It is also spray applicable in order to reach all areas of the foundation.
No matter what the weather in brings, the TUFF-N-DRI® system has the combination of strength and elasticity to keep your home safe. The hydrostatic pressure that often wears down other sealants is no match for this waterproofing system.
We will also install a foundation board in order to give the membrane even great weather resistance. The foundation board will also help drain and insulate your basement walls while reducing condensation.