State College Crawl Space Repair
A lot of people tend to forget about their crawl space. This can be dangerous as a poorly repaired and maintained crawlspace can lead to costly problems and repair fees down the road. So just like the rest of your home, you should not neglect your crawl space.
You've come to the right place to solve your problem if you are looking for a skilled State College crawl space repair company. Our diligent technicians will take care of your crawl space in the areas around State College with support beam installation, encapsulation, and other repair services.
Why Do Crawl Spaces Get Damaged?
Crawl spaces do a lot for your home under stressful conditions. They support the weight of your entire home, even while having poor air flow and constant moisture presence.
This consistent dampness is often what leads to damage in your crawl space. Water tends to stick around due to the poor ventilation and begins seeping into the structure if not properly controlled. 
While water damage is probably the most common issue plaguing crawl spaces in the State College area, other problems can arise that can affect your whole home. 
Air from your crawl space tends to make its way up through your floor and into the home due to the stack effect. This can lead to sickness and health issues for you and your family if the air in your crawl space is unsafe. Call Total Foundation Solutions State College crawl space repair experts if you think you may have these problems. We specialize in handling crawl space issue.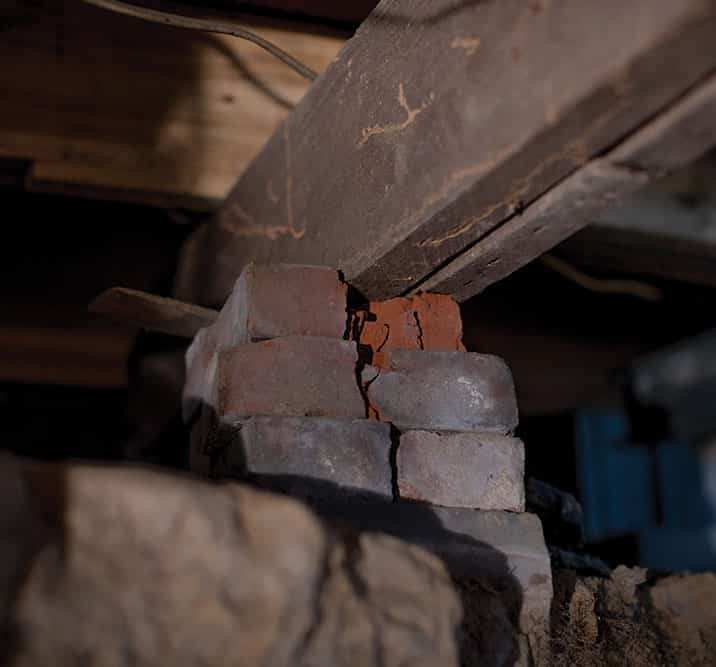 What can crawl space damage lead to?
If your crawl space gets damaged, a lot of things could go wrong in your home. We often tell people they should at least check on their crawl space every once in a while to make sure there are no issues. We have a list of common symptoms below, keep a look out for them and contact our experienced crawl space repair team for a recommendation if you see any.
Mold Growth
Dampness and poor ventilation are all factors that unfortunately often lead to mold. If the air in your crawl space becomes unhealthy, it is easy for it to get into your home and start spreading mold spores everywhere.
Structural Damage
The joists in your crawl space can begin to weaken due to water damage to a point where they can no longer hold up your home. To combat this threat to your home, Total Foundation Solutions offers the areas around State College crawl space support beam installation services.
Pest Infestation
We offer things like our State College crawl space encapsulation to keep bugs and other pests out. They tend to love the darkness and wetness of crawl spaces so it is important to stop them from getting in.
Crawl Space Repair Solutions
Our team will determine the best course of action for fixing your crawl space during our inspection and come up with a custom crawl space repair plan for your home.
Fix Sagging Floors with Support Beams
Water damage could be eroding away your crawl space support joists, making your floors start to sag. If you notice any sign of sagging floors, call our experienced State College crawl space support beam technicians so we can help save your floors.
Crawl Space Encapsulation
Our State College crawl space encapsulation service is designed to waterproof and insulate your home from weather and pests. A resilient vapor barrier is installed around the inside of your crawl space that will keep your home pest and water damage free.
Why Pick Total Foundation Solutions?
We are experts in our field, and have helped many homeowners with their State College crawl space repair needs. Total Foundation Solutions is committed to providing the best products through our membership in the international Supportworks network. Contact us for exceptional State College crawl space repair services!