Concrete Repair in State College
Here at Total Foundation Solutions, we know concrete. If your home's concrete is cracked or damaged, we're the perfect choice for the job. There are many ways that we use concrete for our homes and properties, from foundations to walkways, and there are also many ways that concrete fails. While concrete is an incredible and durable material, depending on soil settlement, moisture, and temperature variation, these slabs may start shifting or breaking down. When your home, driveway, or walkway is compromised, it can put you and your family at risk. Thankfully, you have us to turn to- your local State College concrete repair and foundation PolyLeveling experts.
Many people in the area deal with sinking, cracking or settling concrete, and if you're one of them, don't worry. We utilize the best tools and techniques in the industry, to create or repair concrete in a way that is durable, long-lasting, and cost-effective. From PolyLevel ® to spray polyurethane foam, Total Foundation Solutions has the best materials at our fingertips, and we can assess your property to find the perfect tool for your needs. We proudly work on a variety of residential and commercial concrete applications, including sidewalks, roadways, warehouse floors, pool decks, and more. Whether you just need a few cracks repaired, or you need an entirely new slab, our friendly, experienced State College concrete repair and foundation PolyLeveling contractors are here for you.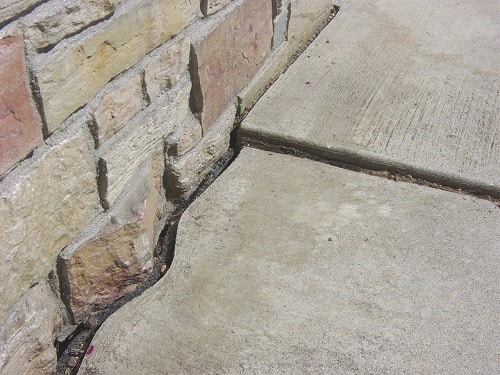 Sinking concrete sidewalk
Solutions
Total Foundation Solutions offers two main solutions for foundation leveling and concrete repair in State College, one of which is likely to fix the affected slab.
PolyLevelⓇ: For sinking slabs, our contractors in State College offer PolyLevel, a state-of-the-art solution that uses a lightweight, expanding foam material which gently lifts sunken slabs back into place when injected below them.
Concrete Sealant: The best way to avoid future pitting and flaking is to seal concrete as soon as it's installed and set. Our team can apply a sealant which offers permanent protection from UV rays, harmful chemicals, water damage, and more.
Contact Total Foundation Solutions
Concrete work is not somewhere you want to skimp, so don't go to just any State College concrete repair company. Trust our team to get the job done right, so you can get back to enjoying your life. Reach out for your free estimate today!