Foundation Wall Repair Systems
Our experts at Total Foundation Solutions offer the Jamestown area foundation wall repair, basement crack repair, and wall anchors that will fully stabilize and repair your home's foundation walls.
Have you begun to notice cracks in your foundation walls? Are your walls starting to buckle or bow? If so, our experts at Total Foundation Solutions can help. We offer an array of foundation services, all designed and engineered to not only restore your home and your walls but also prevent any future problems.
As foundation walls begin to weaken, so does your home's stability and value. If any problems arise, it's important to address the situation quickly before the damages get out of hand. If you suspect something is wrong or notice any unusual symptoms, contact our team in Jamestown, and one of our foundation wall repair or basement crack repair experts will help answer any questions you may have. Give us a call today at 814-208-9442 to schedule a free estimate!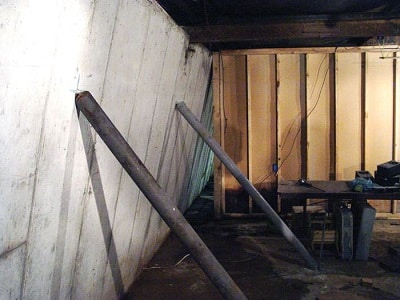 A weakened foundation can have drastic effects on your home's stability. Our team provides complete repair and stabilization for your walls. Call us today!
Call for a free foundation repair estimate
Over the years, our specialists have seen many symptoms that point to a foundation problem. If you notice any buckling, bowing, cracked foundation walls, or anything suspicious, contact us immediately and our professionals will perform an inspection of your home to determine what solution best fits your needs and budget.
If you live near Jamestown and need foundation wall repair, basement wall anchors, crack repair, wall stabilization, or any other foundation solutions, contact us at 814-208-9442 and we'll be happy to answer any questions you may have. We offer free estimates in Jamestown, Olean, Hermitage, Du Bois, Harborcreek, Warren, Edinboro, Erie, Fredonia, Meadville, and surrounding areas.