Jamestown Exterior Basement Waterproofing 
Making sure the exterior of your home is prepared to handle rain and groundwater is important to keep your basement or foundation safe from flooding and water damage. The experienced exterior basement waterproofing professionals at Total Foundation Solutions have the solution you need to keep your home dry and damage free.
We carry many effective water deterring systems that can help your home when a storm rolls in. If you have been seeing signs of water damage, drainage leaking into your basement, or water pooling in your yard, it's time to call an expert Jamestown exterior basement waterproofing professional like Total Foundation Solutions to take a look at the problem. Our inspections and cost estimates are always free and are at no obligation to you.
How does exterior waterproofing work?
Homeowners have two real options when it comes to preventing water related issues in their basement; exterior or interior waterproofing. Interior waterproofing includes sump pumps and perimeter drains designed to collect water in your basement before it can do any harm.
Instead of just capturing water after it gets inside your home, exterior waterproofing systems divert and seal out rain and groundwater before it even gets a chance to get into your basement or crawl space. 
Downspouts, drainage systems, and waterproof sealants are all examples of systems used by our exterior basement waterproofing experts to keep your home water free.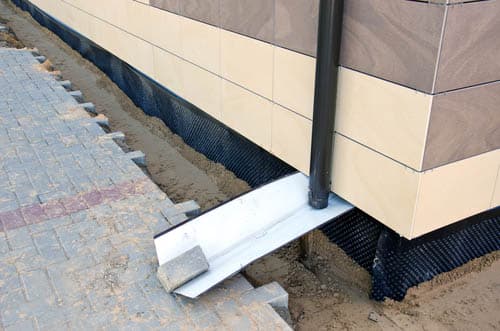 How We Do Exterior Basement Waterproofing
Total Foundation Solutions has a variety of exterior waterproofing options for our clients. This lets us design a custom solution perfect for your needs. A small amount of excavation along the perimeter of your foundation is typical for most systems we install. We offer the waterproofing services listed below:
Drainage system: Our experienced Jamestown drainage system installation team will install pipes around your foundation walls. This is a great way to stop water damage in your basement.
Downspout extensions: These extensions will improve the reach of your existing downspouts, to help divert water away.
Drainage mat: A drainage mat protects your foundation from water by moving water away.
Waterproofing sealant: We will spray a flexible waterproof membrane on the outside of your foundation walls
Protect Your Basement with Tuff-N-Dri® Waterproof Sealant
The Tuff-N-Dri® is a waterproof asphalt membrane that can be applied to provide great protection from water damage and flooding. The Total Foundation Repair team uses this product to make sure that every part of your foundation is completely waterproofed.
One of the main advantages of Tuff-N-Dri® is that it is four times as thick as typical waterproofing sealants. It can also be applied by spray and is incredibly flexible, allowing it to coat cracks in your foundation and effectively cover every part.
Resistant to intense weather conditions, Tuff-N-Dri® waterproof sealant is the best choice to stop water from getting into your basement in any season. 
As an additional feature, we install a foundation board, which, along with the sealant, provides additional insulation and drainage while reducing condensation. 
Differences Between Interior vs. Exterior Waterproofing
What makes interior and exterior waterproofing different? Both are effective solutions to dealing with water damage and really come down to what you want for your home.
These question will help you figure out what is right for you:
Do you currently have basement water problems? 
Interior waterproofing is probably the right choice if you have water in your home. Exterior waterproofing can stop more water from getting in, so it is a viable solution for those who want to prevent water damage in the first place. 
How would you like your waterproofing system to look?
Our clients often tell us they would prefer to have exterior waterproofing because they like how it looks better than interior waterproofing. We do our best to make our interior work as minimally intrusive as possible, but many people prefer the way exterior waterproofing looks.
Exterior Basement Waterproofing
For over 30 years, Total Foundation Solutions has been helping homeowners in Jamestown with exterior basement waterproofing and drainage system installation. Please call our team right away if you notice any signs of water damage.
Call or email us today and we'll come and do an inspection, and give you an estimate on your exterior waterproofing system.
Exterior waterproofing solutions FAQ
Will exterior basement waterproofing damage my landscaping?
Exterior waterproofing systems can be installed during new construction or to existing homes, but it is typically recommended to be installed during new construction to avoid disruption to the existing yard.
At Total Foundation Solutions, we know how much homeowners care about their yard. We install our exterior waterproofing systems with minimal disruption and leave your house looking just as it was when we arrived.
How much does it cost to waterproof a foundation exterior?
The cost of exterior basement waterproofing, or sealing exterior foundation walls, will depend on a number of factors. How big your home is, your landscape, and which method of exterior basement waterproofing you choose should all be considered. For the most accurate cost estimate, call Total Foundation Solutions to receive a free inspection and quote!