Crawl Space Repair for Jamestown Residents
Is your crawl space an area of your home you think about? Since crawl spaces aren't a visible part of the home, most homeowners don't give them a second thought. But if you neglect this part of your home for too long, you may have to deal with serious water damage cleanup and expensive repairs! Total Foundation Solutions is your trusted Jamestown crawl space repair company, and we'll help you protect this vital part of your home.
What Causes Crawl Space Damage?
Most crawl spaces have inadequate ventilation and are prone to moisture problems, simply by design. If your crawl space is damp and dirty for long enough, it can not only affect your home's air quality but also cause structural damage. The health of your crawl space impacts the health of your entire home. Contaminated air can travel upward through your home, and inadequate structural support can cause a variety of problems in the upper floors, as well as wall cracks and water damage. Our Jamestown crawl space repair pros can help you clean up any problems and prevent future issues!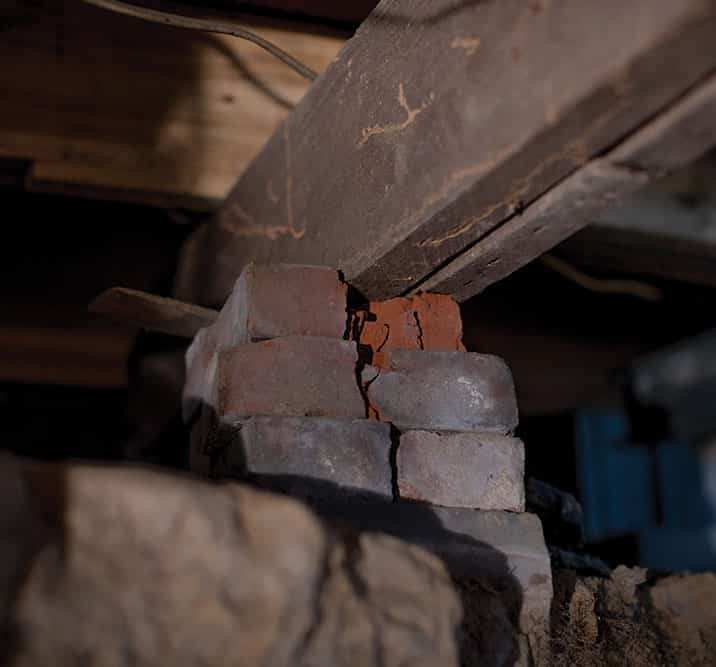 Symptoms of Crawl Space Damage
At Total Foundation Solutions, we've seen how a damaged crawl space can impact the health and safety of a home. We always recommend that homeowners routinely check their crawl spaces to catch problems before they become significant. Here are a few symptoms we watch out for:
Mold Growth
Moisture plus lack of airflow can lead to the growth of dangerous molds, which can put your family's health at risk.
Structural Damage
Water in your crawl space area can lead to wood rot, weakening your floor supports and other vital components of your home.
Pest Infestation
Bugs, rodents, and other pests thrive in a damp, dark environment.
Crawl Space Repair Solutions
We understand that every home is different, which is why we offer a range of crawl space repair services in Jamestown. Water damage in your crawl space and cracks in your walls are sure signs of substantial foundation issues. Depending on your unique needs, we can recommend the best course of action for your home in Jamestown, from water damage cleanup to full crawl space waterproofing. Our team of contractors typically uses one or both of the following solutions:
Crawl space support posts
We'll lift, level, and support your sagging floors with crawl space support posts
Crawl Space Encapsulation
We'll seal off your crawl space with a thick vapor barrier, ensuring a clean, dry enviornment. 
Why Choose Total Foundation Solutions
Total Foundation Solutions is one of the top contractors for crawl space repair in Jamestown, offering water damage cleanup and waterproofing, with over 30 years of experience in the industry. We're a proud member of the Supportworks network, giving you access to the best products on the market. Reach out to us today to schedule your free crawl space repair estimate!