We Fix Uneven and Cracking Floors in Jamestown
We stabilize and level sinking floors
Are you tired of looking at your old, warped, cracked floors? Sick of tripping over uneven planks or tiles? If your home has damage to its floors, it's time to give us a call at Total Foundation Solutions. An uneven floor not only looks bad and lowers your property value, but it can also indicate a serious foundation issue.
We are proud to provide the best repair services for cracks in foundations and basement floors in Jamestown. Fixing uneven floors and sinking floors is our specialty, and we'll go the extra mile to properly diagnose the cause of cracks in the foundation and basement floor of your Jamestown home and offer a lasting solution! If you have cracked, sagging, or uneven floors, give us a call to schedule your free estimate.
BASEMENT FLOOR CRACKING
Cracks in your basement floor or other concrete slabs can indicate foundation movement. Concrete tends to shift and settle over time due to soil conditions, and this can lead to cracking. These cracks are unsightly and can be tripping hazards as well! Our foundation repair team in Jamestown can fix uneven floors and repair your concrete with foundation pier systems for optimal stability and leveling.
UNEVEN FLOORS
As foundations move and crawl space joists fail, a home's framing can tilt or warp, potentially leading to uneven floors and cracks in your home's foundation. Jamestown homeowners sometimes don't notice uneven and sinking floors unless they drop something and it rolls across the room! However, if you notice your doors are hard to open or close, see separations between your wall and floor, or notice that some areas of your floor feel bouncy, you need to call us right away! When it comes to cracks in the foundation and basement floor of your Jamestown home, we can repair these issues with crawl space support jacks or foundation piers, depending on your home's needs.
SAGGING CRAWL SPACE
Your home's crawl space is an essential piece of its stability and safety, and if there is damage there, you may see it show up as sinking, cracking, or uneven floors. If your crawl space's joists are damaged or poorly installed, your floors will start to sag and you may see other structural problems too. Thankfully, this can be fixed and your floors can be brought level again with solutions such as crawl space support jacks. One of our cracked foundation floor repair experts in Jamestown can tell you the best crawl space repair solution in your situation.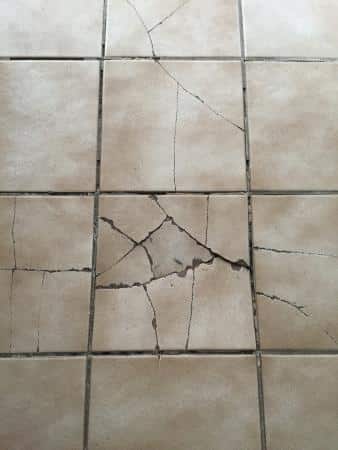 Fix your uneven and cracking floors today!
Stop putting up with sagging, bouncing, unlevel, or cracked floors. Total Foundation Solutions in Jamestown can fix cracking, sinking, or uneven floors with affordable, permanent solutions. Ask for your free estimate to get started!
Contact Total Foundation Solutions
Total Foundation Solutions has been serving Jamestown's floor leveling and concrete repair needs for years. See the difference a professional team can make when you contact us today for your free inspection.