Concrete Sidewalk Leveling & Repair in Northwestern PA and Western NY
If you have a concrete sidewalk that is cracked or uneven, it not only looks bad, but it can lead to a fall or serious injury. The good news is the concrete does not have to be torn out and poured again to fix the problem. Total Foundation Solutions offers Erie sidewalk repair services with PolyLeveling to raise your sinking concrete and prevent it from sinking further. With PolyLevel® concrete leveling foam, we can make your sidewalk level again in just 15 minutes!
If you have a sunken walkway or sidewalk, contact us today to request a free estimate for concrete sidewalk leveling in Erie, Edinboro, Warren, or nearby.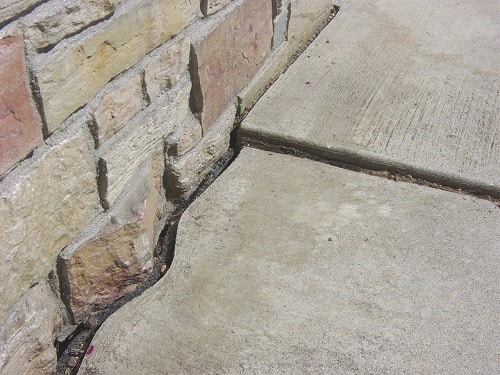 How to Repair Your Sunken Concrete Sidewalk
When it comes to repairing sunken concrete sidewalks, there are seemingly endless techniques. From mudjacking to concrete replacement to concrete grinding, each concrete sidewalk leveling method has its benefits and drawbacks. 
While you're weighing the pros and cons of each method, there's one important question you should always ask: will this method address the cause of my concrete's failure? If the answer is no, no matter what other benefits the method boasts, you'll end up throwing money away in the long run.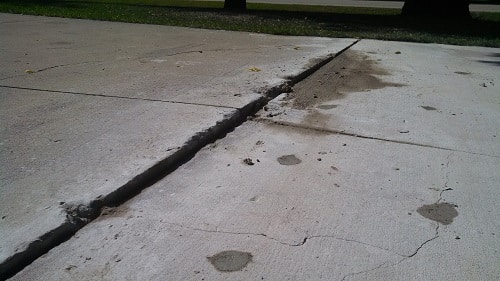 Understanding Why Concrete Walkways Sink and Crack
To find a long-lasting concrete sidewalk leveling solution, you must first discover what is causing your concrete to sink, crack, and become uneven. More often than not, what's causing your concrete to fail is the soil beneath it. When the soil supporting your concrete becomes weak due to voids, it is no longer able to support the weight of the concrete on top of it. The concrete will eventually sink and cave into the voids in the soil, causing it to crack and become uneven. 
There are many things that can create a void beneath the slab, such as erosion from rainwater or gutter runoff and a tree root that has rotted over time. Dirt fill underneath the slab that has not been well compacted can also create voids beneath the concrete. Regardless of what's caused your sidewalk to sink, our Erie sidewalk repair experts can fix it permanently with innovative concrete leveling solutions.
Before and After: Concrete Sidewalk Leveling
Look familiar? The sidewalk in front of this home settled a couple of inches, creating a trip hazard and an area for water to pool. After raising the sinking concrete with PolyLevel®, our Erie sidewalk repair professionals were able to turn the sunken sidewalk into a safe, level surface.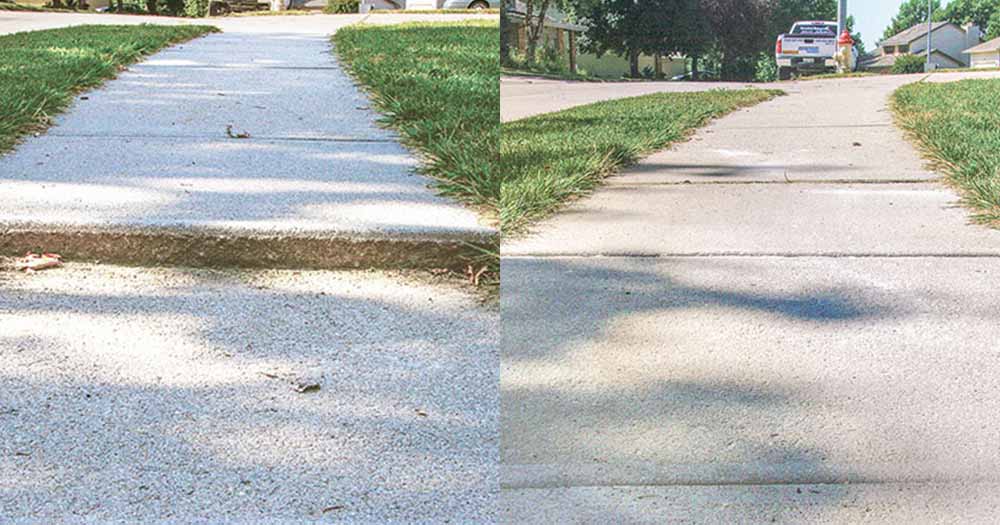 Address Unstable Soil with PolyLevel® Concrete Leveling Foam
Unlike concrete grinding, mudjacking, and concrete replacement, PolyLevel® concrete leveling foam actually addresses unstable soil to permanently lift sinking concrete sidewalks. PolyLevel®, when used for concrete sidewalk leveling, involves injecting a structural-grade, expanding two-part polymer foam under concrete for an accurate, permanent lift. The polymer foam fills in any gaps or voids underneath the concrete slab, and because the foam is waterproof, there's no chance it will wash out over time. In addition, PolyLevel® concrete leveling foam is extremely lightweight, weighing just 4 lbs per cubic foot, meaning it won't cause the soil below to settle.
At Total Foundation Solutions, we use PolyLevel® concrete leveling foam to lift and level concrete sidewalks.
Benefits of Using PolyLevel® for Sidewalk Repair
Practical and affordable solution for sidewalk leveling: PolyLevel® offers a level of permanency not available with other concrete repair methods, meaning you won't have to spend money to re-fix the same problem a few years down the road. 
Takes less time to cure than other sidewalk repair methods: With PolyLevel®, there is almost no waiting for the concrete to cure before you can walk on it. With concrete replacement, it usually takes about a day for the concrete to cure.
Far less disruptive to the landscaping when compared to traditional mudjacking and concrete replacement: If the concrete is ripped out and repoured, the grass can be damaged from the heavy equipment and the removal of the old slab. Mudjacking leaves large holes in the concrete's surface that must be filled with new concrete, giving the concrete a patchy appearance. 
Commercial Concrete Sidewalk Leveling
Some areas require commercial property owners to maintain the sidewalks adjoining their property. If someone trips and falls on the sidewalk in front of your business, you might be liable. Additionally, you will want to ensure your property is ADA-compliant, meaning there can't be significant vertical misalignments, horizontal cracks, or spalled areas. It's important to check your town or city's sidewalk regulations for specific requirements.
Concrete Sidewalk Leveling Services in Northwestern PA and Western NY
Contact the concrete repair specialists at Total Foundation Solutions today to get a free estimate to raise your sunken sidewalk. We offer concrete repair and leveling services in Edinboro, Erie, Warren, Meadville, Fredonia, Jamestown, Olean, Du Bois, Harborcreek, Hermitage and nearby.