Concrete Pool Deck Leveling in Jamestown
Quickly repair uneven concrete around your pool with PolyLevel®
Is the concrete surrounding your pool showing signs of wear and tear? Is the surface uneven, with protruding edges or settling slabs? Total Foundation Solutions is proud to offer the best pool deck repair in Jamestown! Our concrete lifting and leveling experts have plenty of experience repairing pools using the innovative PolyLevel® technique. PolyLevel® is a better option than pool deck resurfacing and is much quicker and more affordable than a replacement.
Reach out to us at Total Foundation Solutions today for a pool deck inspection and a free quote for your pool deck repair. We serve Jamestown, Erie, Edinboro, Warren, and nearby towns in Pennsylvania and New York.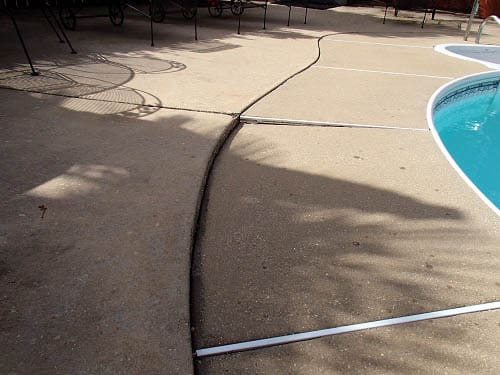 Sinking concrete around a pool is a common problem that creates tripping hazards.
Causes of a sinking concrete pool deck
When a typical pool is constructed, the backfill soil that is added around the excavation site is not as dense or compacted as the undisturbed soil. When the concrete pool deck is poured, the weight of the concrete compresses the loose soil, causing parts of it to settle or sink. This construction process is often the main cause of sinking or shifting poolside concrete slabs.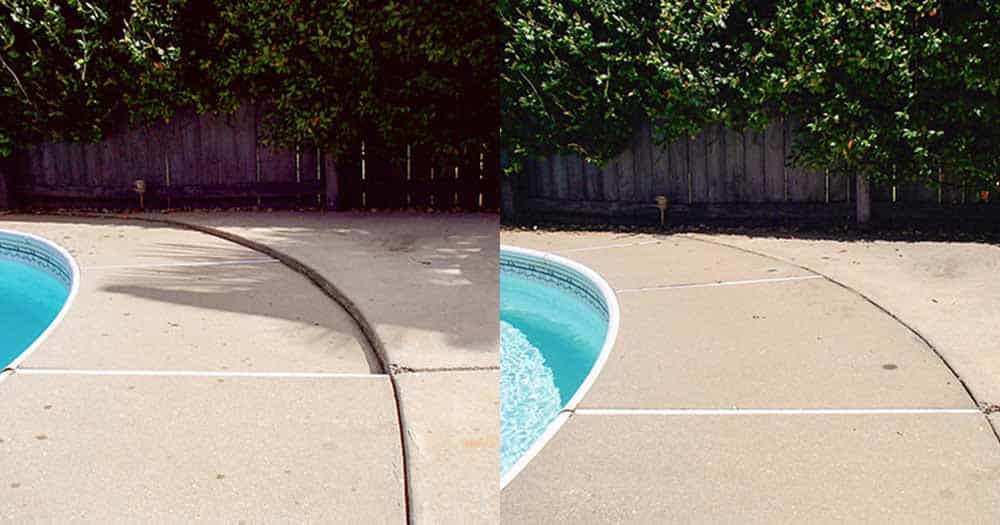 Concrete pool deck restoration with PolyLevel®
Many pool deck repair companies in Jamestown still use old-school techniques, which can be noisy, destructive, and expensive. Using heavy equipment, they may demolish sections of your pool deck and pour new ones in their place. With this way of doing things, you'll be left with yard damage and a long wait to use your pool while the concrete cures. However, our method of concrete leveling won't disturb your landscaping, and it'll save you time and money, too!
By injecting the PolyLevel® foam under your settled pool deck, we can raise the concrete slabs back to the right level while reinforcing the underlying soil to prevent future issues.
How PolyLevel® works to repair your settled pool deck
PolyLevel® is a two-part polyurethane foam mixture, which can easily raise concrete slabs without the need for demolition or replacement! Our concrete lifting and leveling technicians in Jamestown simply inject this foam through small holes in the concrete, to the exact controlled amount, to bring the slab to the right place. This innovative foam not only lifts concrete with ease but also fills any gaps in loose soil, increasing its load-bearing capabilities. When you come to us for your pool deck leveling, you can rest well knowing that it's fixed for good.
Get a quote to eliminate swimming pool trip hazards today
If you are worried about your friends or family tripping or hurting themselves on your pool deck, it's time to call us at Total Foundation Solutions. We'll answer any of your questions about our concrete repair services and give you a free estimate on your pool surround project. We have also worked with customers in Erie, Edinboro, Meadville, Olean, Warren, Fredonia, Du Bois, Hermitage, Harborcreek, and throughout New York and Pennsylvania.