Buffalo Foundation Pier Installation
Our experts can fix your sinking foundation in Buffalo with push, slab, and helical piers
Foundation settlement can put serious strain on your home that can lead to many problems in the future. This is why the Buffalo foundation pier installation team at Total Foundation Solutions offers a variety of piers that can help fix whatever issues are causing your home to sink and settle. 
We offer the people of Buffalo push piers, slab piers, and helical piers; each designed to address different problems that are affecting your home's foundation. We also have years of experience helping homeowners with settling foundations, so we can determine which fix is right for your home and carry out the installation process flawlessly. Creating a custom solution and installation process for each individual is a big piece of what sets us apart from other Buffalo foundation pier installation companies. 
If you are interested in a free, no-obligation inspection and repair estimate for your home, please reach out and call us today or click below to reach our contact form.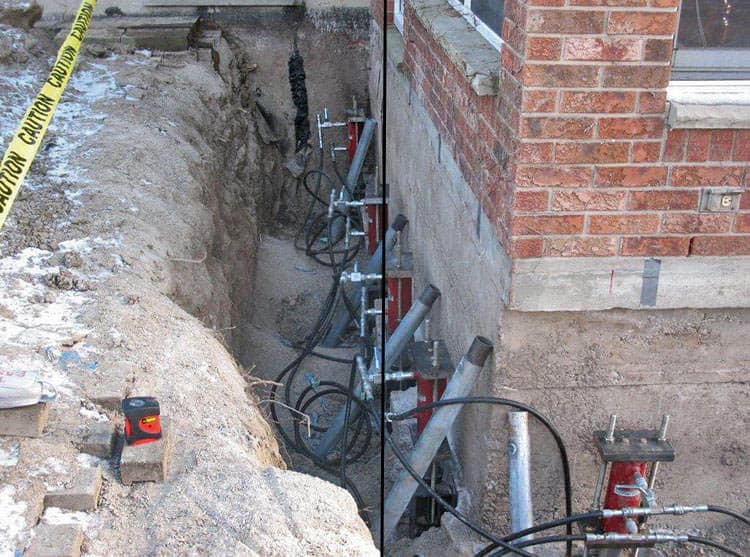 Strong and stable. Our pier system will permanently solve your foundation settlement problem.
We use high-quality foundation piers
Total Foundation Solutions can offer expertly designed and engineered foundation piers and other products because we are a part of the International Supportworks Network. Our team has also been trained directly by Supportworks, Inc on how to correctly install their brand of helical, slab, and push piers. Supportworks designed piers have been engineered to only cause a small amount of disturbance to your home when being set up and they are quick to install.
We have the option to install either galvanized or black steel push, slab, or helical foundation pier systems. We are so confident in the strength and durability of these foundation piers in the long term that we have a 25-year manufacturer's warranty on them as well as installation and performance warranties of our own.
Common problems with foundations in Buffalo
Horizontal or vertical foundation cracks
Chimneys that tilt
Doors or windows getting stuck
Top of the wall bows inwards
The slab is cracked or sinking
Our Buffalo foundation pier installation company can help!
Don't struggle with foundation issues on your own. They are just going to get worse the longer that nothing is done. The experts at Total Foundation Solutions can let you know exactly what is wrong and give you an accurate assessment of the right solution for the right price. Total Foundation Solutions will handle the problem the right way!
You can reach a knowledgeable team member at 814-208-9442 or get in contact online to talk about your foundation problems. Our inspections and estimates are always free for all the services we offer.