Buffalo Exterior Basement Waterproofing 
When it comes to keeping your home safe and dry in the areas around Buffalo, exterior basement waterproofing and drainage systems can stop water before it even gets inside. Total Foundation Solutions designs systems that will defend your home for years to come.
For over 30 years, Total Foundation Solutions has helped with Buffalo's exterior basement waterproofing needs. During this time, we have discovered the most effective products and best designs for exterior drainage systems, so you can rely on our experts to know how to solve your problems. Get a price quote based on your homes' specific needs when you schedule a free inspection with one of our foundation waterproofing experts.
What are exterior basement waterproofing systems?
Unlike interior systems that use perimeter drains and sump pumps to remove water from the basement or crawlspace after it already gets inside, exterior waterproofing does the opposite. Exterior systems are created specifically to stop water from getting into your basement or crawlspace in the first place before it has a chance to cause water damage. 
Our Buffalo exterior basement drainage system experts use a variety of tried and tested methods to accomplish this goal. Water is diverted away from the foundation with drainage pipes and downspout extensions, while waterproof sealant is applied to the exterior of your foundation to stop even the smallest of leaks.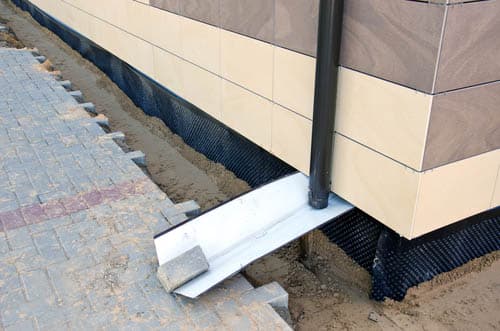 Exterior Waterproofing Methods We Use
Usually, our experts will excavate around the perimeter of your home in order to install a combination of exterior waterproofing and drainage systems. Some of the exterior waterproofing systems that we install include: 
Drainage Systems: A series of drainage pipes are installed around your foundation in order to channel water away from the interior
Downspout Extensions: Often water from your own gutters is not deposited far enough away from the home and is able to get inside and cause damage. Downspout extensions boost the distance of your existing spouts to make sure this doesn't happen
Drainage mat: This system directs water away from your basement
Waterproofing exterior walls: A membrane of flexible watertight sealant that is sprayed along the exterior of your basement walls
TUFF-N-DRI® Sealant for Waterproofing Exterior Basement Walls
TUFF-N-DRI® Basement Waterproofing Sealant is the product chosen by our experienced Buffalo exterior waterproofing professionals to protect the outside walls of your basement. The waterproof membrane of polymer and asphalt is tough enough to stand up to any weather, and flexible enough to be applied almost anywhere. 
Before we apply our TUFF-N-DRI® Basement Waterproofing Sealant, a foundation board is installed.  Foundation boards provide insulation for your basement and help with drainage while providing support and protection for your TUFF-N-DRI® Membrane.
Normal leak preventing sealants lack the thickness that is provided by the TUFF-N-DRI® system. It can also provide better coverage and protection as it is spray-on applicable, allowing it to get into the cracks and hard to reach areas of your foundation. 
Harsh weather conditions are no match for TUFF-N-DRI® sealant. Water, freezing, and hydrostatic pressure are all stopped by the strength and elasticity of our sealant. No matter the weather the seasons in Buffalo bring, TUFF-N-DRI® will keep your home protected.