ASHTABULA EXTERIOR BASEMENT WATERPROOFING
Total Foundation Solutions offers a variety of effective drainage and waterproofing systems for your home. Designed to keep your home protected from water damage, our Ashtabula exterior basement waterproofing services are a smart investment in the future of your house.
Total Foundation Solutions has provided Ashtabula exterior basement waterproofing and drainage system installation for more than 30 years. It is important to contact our experienced waterproofing specialists if you notice any signs of your drainage system not working effectively. We carry many products designed to stop water from getting into your home from the exterior. Schedule a free inspection today and get a custom price quote for your home's specific needs.
How does exterior basement waterproofing work? 
Exterior basement waterproofing is for those who don't want to wait for water to get into their home before it can be removed. This proactive strategy stops water before it gets near your basement or foundation. 
While interior drainage systems like sump pumps and perimeter drains are great at removing water, they only work after water has already gotten into the basement. This means that water has had a chance to start causing problems for your home already.
Our Ashtabula exterior basement waterproofing systems use effective drainage systems, downspouts, and sealants to stop water from getting in in the first place.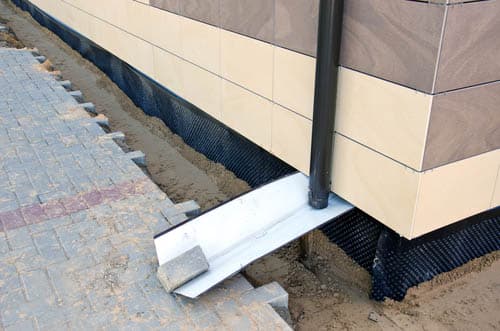 Exterior Basement Waterproofing and Drainage
Total Foundation Solutions offers a variety of waterproofing and drainage systems in order to keep your home safe in any situation. Our Ashtabula drainage system installation experts will make sure your exterior waterproofing system is installed properly, doing whatever is necessary to get the job done right.  Some of our waterproofing options are:
Drainage System Installation: Designed to stop water from seeping into your basement, a complete exterior drainage system has many parts including a pipe that is buried along your foundation perimeter. 
Downspout Extensions: These increase the distance of your downspouts so they can move water away from your foundation better.
Drainage mat: This system channels water away from your foundation
Waterproofing exterior walls: This waterproofing spray seals your foundation walls and protects them from water
Waterproof Exterior Basement Walls with TUFF-N-DRI® Sealant
TUFF-N-DRI® Sealant is a flexible polymer-enhanced waterproofing membrane that protects your home from water seepage. One of our expert contractors will apply the sealant to the outside wall of your foundation.
One of the reasons we use TUFF-N-DRI® waterproof sealant is that it's four times thicker than most asphalt membrane sprays. The spray application process allows us to coat all surfaces, cracks, and nooks of your foundation to achieve the best possible level of protection.
Living up to its name, TUFF-N-DRI is also extremely weatherproof and is flexible enough to not warp due to pressure, heat, or water. No matter what is going on outside, our waterproofing system will keep your home safe.
Our waterproofing sealant is always installed with a foundation board as well. This system will help protect your foundation even further by insulating your basement and helping with drainage and condensation.
Interior vs. Exterior Basement Waterproofing
Both systems will help protect your home from water damage, but what is the difference between interior and exterior waterproofing strategies?
If you are trying to decide what is right for your home, ask yourself these questions:
Is water already in my home?
If water has already made it into your basement and is causing problems, you should look into interior waterproofing solutions. If not, our Ashtabula drainage system installation experts can make sure it never does with exterior basement and foundation waterproofing.
What kind of design do you prefer?
A home's looks are important both for value and aesthetics, and many of our customers enjoy the more subtle approach of exterior waterproofing systems to interior ones. While Total Foundation Solutions can design an interior system that is barely noticeable, exterior waterproofing systems are often preferred by our customers due to their subtlety. 
Should I get interior and exterior waterproofing?
Flooding and water damage can cause serious damage and trouble for homeowners. With this in mind, many of our clients have chosen to get the most protection possible with both interior and exterior waterproofing solutions. These systems work together to stop water from harming your home. 
Talk to an exterior basement waterproofing expert today
Total Foundation Solutions is proud to serve Pennsylvania, New York, Ohio and the people of Ashtabula with exterior basement waterproofing services. For over 30 years our Ashtabula drainage system experts have helped people find the right solution for their homes. 
Call or email us for a free inspection and price estimate of your home waterproofing system.
Exterior waterproofing solutions FAQ
Will exterior basement waterproofing damage my landscaping?
Exterior waterproofing systems can be installed during new construction or to existing homes, but it is typically recommended to be installed during new construction to avoid disruption to the existing yard.
At Total Foundation Solutions, we know how much homeowners care about their yard. We install our exterior waterproofing systems with minimal disruption and leave your house looking just as it was when we arrived.
How much does it cost to waterproof a foundation exterior?
The cost of exterior basement waterproofing, or sealing exterior foundation walls, will depend on a number of factors. How big your home is, your landscape, and which method of exterior basement waterproofing you choose should all be considered. For the most accurate cost estimate, call Total Foundation Repair to receive a free inspection and quote!