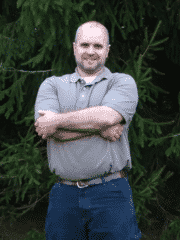 Brian Gillette
HOMETOWN: Edinboro, PA
Work Experience
Total Foundation Solutions was opened in 2018 by Brian Gillette of Edinboro, PA. Brian has spent nearly thirty years perfecting his craft in the construction, facilities and home improvement industries and holds a BA in Construction Management.
Spending time working in various roles in these industries has given Brian the unique advantage of seeing his process from multiple perspectives. His work as a Navy Seabee also provided professional training for emergency construction in high pressure situations.
Brian aims to use his experiences to consistently provide homeowners with the highest level of service. Brian enjoys providing Total Foundation Solutions customers with quality foundation solutions and feels grateful to be able to remove an area of concern from the lives of local homeowners. In his spare time, Brian cherishes days spent with his wife and two children on their family farm.